Henrico Hitters win Black World Series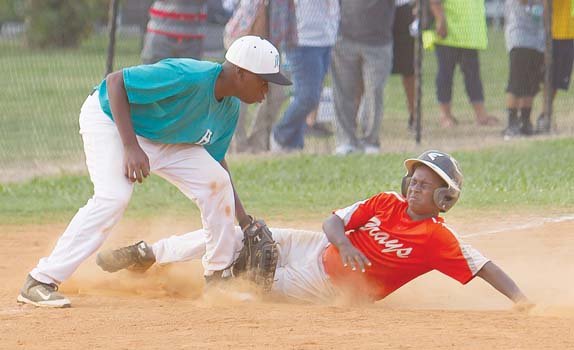 The Henrico Hitters are the champions of the 2014 Black World Series.
The 12 and under team from Henrico County went undefeated to capture the championship title — a key part of the Metropolitan Junior Baseball League's Inner-City Classic, an alternative tournament to Little League.

The Hitters claimed the title with a 14-4 win over the Hampton Roads Grays out of Chesapeake at Parker Field Annex Saturday afternoon.
"We've competed for three years, but this is our first win in the World Series. I'm so proud of the kids," said attorney Albert D. "Al" Mumphrey, a co-founder of the Hitters.
Coach Bryan Uzzell, the other co-founder, said the Hitters are an all-star team drawn from players from Chamberlayne Little League and other summer leagues in Varina and Mechanicsville.
The 12-U Hitters reached the finals with a dominating 5-0 record in pool play. The Grays out of Chesapeake went 5-1 in pool play, with the team's only early loss to Henrico. Five other teams also competed this year, including one from Richmond.
Separately, the Mosby Blue Sox from Richmond fell short in their bid to win the title for 14-U teams. The Blue Sox lost 15-9 to the Carolina Tigers of Charlotte in the championship.
The Prince George's, Md., Select Blue Sox won the 16-U finals with a 14-3 win over the Bridgeport, Conn., RBI team.
The Philly Blue Sox won the 19-U championship. Once again the Bridgeport RBI was on the losing side after making the finals. The final score: 11-3 in favor of Philadelphia.
In all, 30 teams from 14 cities came to play in MJBL's six-day summer tournament. This was the 24th edition. The MJBL was launched in Richmond in 1966 to provide baseball play for inner-city kids. Today, MJBL has affiliates in 19 states, the District of Columbia and the Bahamas.