Highland Springs junior vaulting toward championship
6/10/2016, 6:48 a.m.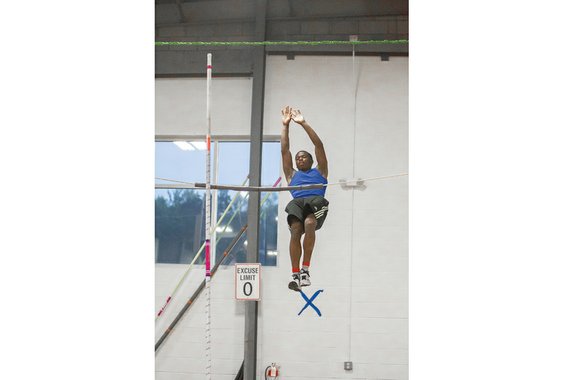 Previously, Coach Bishop's clients tended to hail from Lee-Davis and Atlee High schools.
He says he changed, purposely, "to give back, to help out with some of the inner- city athletes."
Highland Springs isn't inner city, but St. Helen and Booker stand out as young African-Americans in an event that is predominantly white and suburban.
"That's right, there aren't many black vaulters," Coach Bishop conceded.
With that, he added:
"But probably the three most successful vaulters in Virginia history were all black."
Topping Coach Bishop's list of vaulters of color is Lawrence Johnson of Great Bridge High School in Chesapeake, who went on to win four NCAA titles at the University of Tennessee and then a silver medal at the 2000 Summer Olympics.
Then there was Brian Hunter, also of Great Bridge High, who went on to win the 2002 NCAA crown at the University of Texas.
Closer to home, Kevin Brown of Henrico High School was a state champion in Virginia and went on to star at the University of North Carolina before competing on the pro circuit with 18-4 best.
Vaulters tend to be over 6 feet tall, but St. Helen takes heart in the fact that the world record holder, Frenchman Renaud Lavillenie, is just 5-foot-10 and 152 pounds.
"It is an advantage to be taller," said St. Helen. "But if you don't have that advantage, you make the most of what you do have."
Coach Bishop praises St. Helen for his intelligence, explosive speed, strength relative to his slender frame and rubbery joints.
In fact, despite no formal training, St. Helen has been hired at Aerial East to help train gymnasts in the 4 to 15 age groups.
There's more to being a vaulter than can be determined from physical stature. Sometimes you need to look into their head. To flip upside down, so far into the air, isn't for the timid. To succeed on a top level, the fear factor must be minimized.
"I never had any fear factor," insists St. Helen. "Sure, I've had some tough falls. But it's the falls, I think, that help you eliminate the fear factor."
Coach Bishop noted Lavillenie, the 2012 Olympic champ in London at 19-7, was a "circus acrobat" before becoming a vaulter.
Virginia's all-divisions state record for the vault is held by another Great Bridge High athlete, Mike Morrison, who sailed 17-6 1/2 in 2005.
Out of Richmond, former Jefferson-Huguenot-Wythe High School standout Keith Young won two state titles and posted a 15-0 best in 1983.
Nowadays, only a few high schools — none in Richmond — place much concentration on the vault largely because of a lack of facilities and coaching, and the danger.
Coach Bishop's former pupils include Chris Pillow, an Atlee High School graduate, who soared to 16-3 to win the State AAA title in 2011. He later vaulted at Rice University.
Last year, Coach Bishop took a group of vaulters, including St. Helen, to the National Pole Vault Summit in Reno, Nev.
Coming up June 17 to 19 is the New Balance Nationals competition in Greensboro, N.C.
To soar to vaulting's upper tier, an athlete needs speed, strength, flexibility, mental toughness and opportunity.
St. Helen is way above average in all.