Finding her voice
10-year-old wins Library of Congress writing award
10/7/2016, 7 p.m.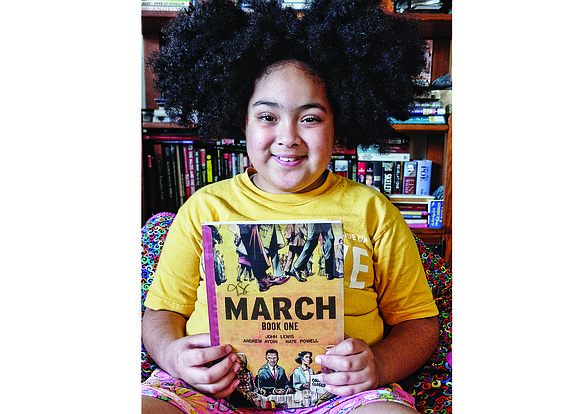 By Leah Hobbs
Isla Rodriguez, 10, is an inspiration.
The fifth-grader at William Fox Elementary School in Richmond plays the alto saxophone in the school band, initiated her family's recycling efforts with mother Holly and father Enrique and has grown up attending rallies and meetings with her parents supporting immigration law reform and the Black Lives Matter movement.
The youngster, who loves to read, play Minecraft and participate in Junior Girl Scouts, has been recognized for another talent — writing.
Isla was named the Virginia winner of the Library of Congress' 2016 "A Book That Shaped Me" Summer Writing Contest. Her essay on the trilogy "March" by civil rights icon and U.S. Rep. John Lewis of Georgia was chosen as tops among submissions through participating public libraries throughout the state.
"I am not surprised at all that her essay was selected," said Daniela Jacobs, principal of Fox Elementary.
"Isla is a voracious reader who possesses one of those personalities that you will never forget. Her inner voice is amazing, and I am certain that this young lady will go on to do great things in life and make a large impact on everyone she meets."
The "March" books are used in schools across the nation to teach youngsters about the Civil Rights Movement. Using comic-style graphics, Rep. Lewis shares his memories of the movement, including his work as head of the Student Non-Violent Coordinating Committee and student sit-ins, bus boycotts and the infamous 1965 march across the Edmund Pettus Bridge in Selma, Ala., known as "Bloody Sunday," where he was among the scores of people beaten and injured.
"The book made me feel the pain of the people who suffered in the movement and changed the way I see the world," the youngster wrote in her essay. "I used to just see everyday life, but now I often see history."
When Isla talks about the book, said her mother, Holly Rodriguez, she warns people that it is "quite intense." Still, it is one of Isla's favorite books. She has read it several times.
Isla received a medal, two certificates and two gift card prizes during a national awards presentation Sept. 24 at the Library of Congress' 2016 National Book Festival in Washington.
Even more exciting, Isla got to meet Congressman Lewis, who spoke at the festival.
After the ceremony ended, she gave him a copy of her essay. He signed two of her books and invited her to return to Washington to join him on the floor of the U.S. House of Representatives.
The book and its author have had a clear impact on the youngster, who said she wants to be a civil rights attorney.
"I would like to be a civil rights activist," Isla told the Free Press. "If I see where someone is being treated unfairly, I will help them."
At 8, she signed the Unitarian Universalist Church of Richmond's anti-racism pledge.
"She is quite aware of social justice," Mrs. Rodriguez said. "She is quite concerned about peace, kindness and fairness in the world."