Sportscaster Herm Edwards named head coach at Arizona State
Fred Jeter | 12/29/2017, 1:08 p.m.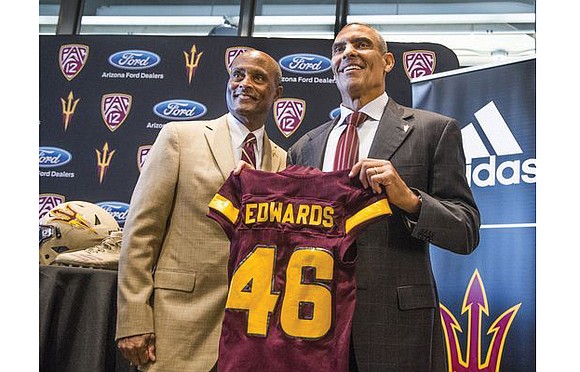 Herm Edwards is taking his football expertise from the broadcast booth back to the sidelines.
An ESPN personality on NFL Live since 2009, Edwards was named head coach at Arizona State University.
"I'm here to build a program on top of the foundation that's already been built here," he said in his introductory news conference on Dec. 4 in Tempe, Ariz. "We're here to be relevant in the Pacific 12."
Coach Edwards, 63, insists his lengthy absence from coaching won't be a deterrent. He also has served as a motivational speaker during that absence.
"I'm proud to be coach here, and I promise you whatever I have — and I got a whole lot, a whole lot — I will work tirelessly and be committed," he said.
Coach Edwards succeeds Todd Graham, who was fired following a six-year, 46-31 record, including 7-5 this season.
Coach Graham will lead the Sun Devils in the Dec. 29 Sun Bowl in El Paso, Texas, against North Carolina State University, with Coach Edwards simply observing and planning the future.
Coach Edwards already has been active on the recruiting front. Last week, he announced 11 signees, including two with a "four-star" rating — linebacker Reggie Hughes and cornerback Dominique Harrison.
This represents a new chapter in Coach Edwards' football saga.
Coach Edwards was a standout NFL cornerback, mostly with the Philadelphia Eagles, from 1977 to 1986, collecting 33 interceptions. He may be best known for the "Miracle in the Meadowlands" on Nov. 19, 1978, at Giants Stadium in East Rutherford, N.Y.
The Giants were leading 17-12 with a few seconds left in the game and had the ball. The Eagles had no timeouts. Instead of "taking a knee," as teams do now, the Giants ran a play and fumbled the handoff from Joe Pisarcik to Larry Csonka.
Coach Edwards scooped up the loose pigskin and scampered 26 yards for the winning touchdown as time expired.
Arizona State is hopeful Coach Edwards will be more successful as a college coach than he was in the NFL. He was a combined 54-74 (2-4 in playoffs) with the New York Jets and Kansas City Chiefs from 2001 to 2008. He was 2-14 during his final year in Kansas City before being fired.
Soon after, he was hired by ESPN, where he has become a fan favorite with his down-to-earth "Hermisms."
The NFL to college coaching train is filled with greatly differing results. Nick Saban was just 15-17 in two seasons with the NFL Miami Dolphins. Since then, he has built arguably the nation's most dominant college program at the University of Alabama.
On the other hand, Lovie Smith was 81-63 with the NFL Chicago Bears, but has struggled to make a 5-19 mark in two seasons at the University of Illinois.
It isn't terribly rare for NFL coaches to leave for college coaching. Coach Edwards, however, falls into a unique category with nearly a decade in between as an announcer. He insists he hasn't lost his feel for the game during his years of speaking to a TV audience as opposed to a locker room of athletes.
"I coach football and I've been coaching football all my life," he told the Tempe media. "That's what I do. I coach football. They've given me the ability to coach from a monitor. They've given me the ability to come into your home and coach."