VSU looking for another victory Saturday against Elizabeth City State
Fred Jeter | 10/6/2017, 11:43 a.m.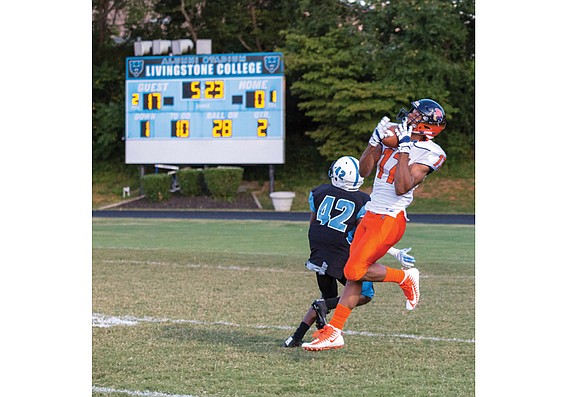 Virginia State University's high-stepping marching band is known as the Trojan Explosion.
But fans don't have to wait until halftime to enjoy the fireworks.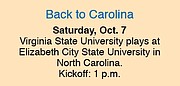 VSU's football team is highly explosive, too. Under second-year Coach Reggie Barlow, the Men of Troy continue to run roughshod over their CIAA opponents.
The Trojans head to Elizabeth City State University on Saturday, Oct. 7, with a 4-0 overall record — 2-0 in the CIAA — and an eight-game winning streak over two years.
Following a 56-18 rout of Livingstone College in Salisbury, N.C., the Trojans are averaging 37 points and 451 total yards per game.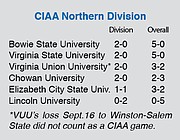 The beatdowns are a continuation from a season ago when VSU averaged 53 points per game during the final four contests.
Having won 10 of its past 11 contests, VSU's last loss was Oct. 15, 2016, at Bowie State University by a score of 38-37. A rematch with Bowie State's formidable Bulldogs is set for Saturday, Oct. 14, on what figures to be a festive homecoming weekend in Ettrick.
The VSU-Bowie State game will carry both CIAA divisional championship and NCAA Division II playoff ramifications.
In blitzing Livingstone College, quarterback Niko Johnson came off the bench to backup Cordelral Cook, hitting 12 of 16 passes for 202 yards and three touchdowns. Johnson is a former Hermitage High School star who did not play football the past two seasons.  
Cook, as much a threat running as throwing, passed for 82 yards and rushed for 40 more. Cook is seventh in CIAA rushing with 71 yards per game.
VSU's Trenton Cannon, the CIAA rushing leader with 132 yards per game, ran for 82 yards with a 38-yard touchdown against Livingstone. The versatile back added an 85-yard touchdown kickoff return to the rout.
Cannon, who transferred to VSU from Shepherd University in West Virginia, is an alumnus of Bethel High School in Hampton, alma mater of NBA great Allen Iverson and Howard University football Coach Mike London.  
An unexpected hero in the Livingstone game was graduate student Zachary Parker, who caught 50-yard touchdown passes from both Cook and Johnson. From South Lakes High School in Reston, Parker had five receptions for 118 yards in his best day wearing orange and blue. Parker also returned two punts for 29 yards.
Overall, VSU is second in CIAA scoring and total offense to Bowie State University.
Baltimore native and Tuskegee University transfer Vincent Parker led the defense with six tackles. Deandre Henderson, a freshman from State 5A champion Highland Springs High School, made his first college interceptions.
The trip this Saturday to Elizabeth City State University will be the Trojans' third venture into North Carolina this season. VSU started its "Tobacco Road" experience with a 44-6 win Sept. 9 at Johnson C. Smith University in Charlotte.
The Trojans need to keep their Carolina roadmaps handy. Still to go is a trek to Chowan University in Murfreesboro on Saturday, Oct. 28.