CIAA rivals VUU and VSU to meet at 23rd Annual Freedom Classic
1/13/2018, 11:34 a.m.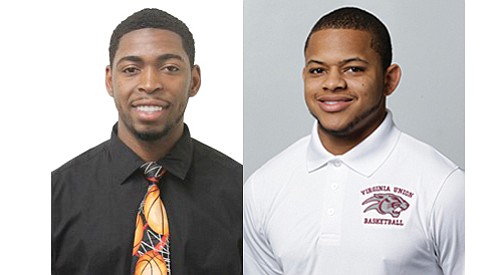 Jemal Smith and Philip Owens, having shed anonymity, are in line to take center stage in the 23rd Annual Freedom Classic Festival.
Smith, after a slow start in Richmond, has emerged as a point guard for the Virginia Union University Panthers.
Owens, while following a similar slow-starting script, has the same role for the Virginia State University Trojans.
Their "point-on-point" confrontation looms as pivotal when the CIAA rivals meet on the basketball court 7 p.m. Sunday, Jan. 14, at the Richmond Coliseum.
Both squads will arrive at the Coliseum with a tailwind at their backs.
At the start of this week, VSU was 13-1 overall and 3-1 in the CIAA. The Trojans won six straight games following the team's lone defeat Dec. 14 at St. Augustine's University.
Virginia Union, 9-8 overall but leading the CIAA's Northern Division 4-1, has won six of its last nine games.
VSU won last year's Freedom Classic 74-59, but VUU evened the ledger later in February with a 90-71 victory over the Trojans at Barco-Stevens Hall.
Overall, VUU holds a 16-6 Freedom Classic lead.
Neither Smith nor Owens was involved in last year's Freedom Classic. Smith was playing last season for Hostos Community College, a Division III school in the Bronx, N.Y.
A native of the Soundview area of the South Bronx, Smith starred at Cardinal Hayes High School before enrolling at the community college.
Owens, from Bishop Sullivan Catholic High School in Virginia Beach, sat out last season following two strong seasons at the University of Virginia-Wise, a NAIA affiliate.
Smith, a stocky 5-foot-10 athlete with exceptional speed, has been playing with more and more confidence as the season progresses. In his last five games, Smith has averaged 29 minutes per game as the Panthers' offensive choreographer, while scoring 46 points and 35 assists.
In VUU's win over Fayetteville State University on Jan. 6, Smith had 11 points and 10 assists for a rare points/assists double-double.
"Jemal is like an extension of our coaching staff on the floor," said VUU Coach Jay Butler. "He gets everyone involved. Plus, he's a tough kid."
Smith's playing time has increased since Marcus Hoosier, who started the season running the point, dropped off the team.
Owens, a slender 6-footer, has scored 40 points and passed for 14 assists while averaging 24 minutes per game in the Trojans' last five outings.
VSU had an opening at the point following an injury to Waymond Wright, who last played Dec. 12.
Coincidentally, Coach Butler also recruited Owens when word spread he was leaving U.Va.-Wise.
VSU features a balanced scoring attack, with six players averaging between 13 and eight points. However, leading scorer Richard Grandberry (13.3 points) and second-leading scorer Brandon Holley (10.7 points) missed both the Jan. 5 game against Winston-Salem State University and the Jan. 6 game against Livingstone College for undisclosed reasons.
Walter Williams, a springy 6-foot-4 junior from Henrico High School, averages 11 points and seven boards.
VUU is led in scoring by senior All-CIAA preseason picks Kory Cooley (13 points per game) and Jimmy Paige (12.2 points).
The Panthers will feature the tallest man in the game with 6-foot-11 Andre Walker, a transfer from Hofstra University. In his four games since becoming eligible to play, Walker has averaged five points and four rebounds in 13 minutes per game coming off the bench. He had five blocked shots in VUU's overtime win over Shaw University on Jan. 4.
VUU and VSU will meet a second time on Feb. 7 when VUU makes its first-ever trip to VSU's Multi-Purpose Center.