Winner of next week's Democratic primary likely shoo-in for city commonwealth's attorney
Jeremy M. Lazarus | 8/2/2019, 6 a.m. | Updated on 8/5/2019, 3:36 p.m.
Next week, Richmond residents can take part in deciding who should be the city's next commonwealth's attorney — Colette W. McEachin, who currently holds the office, or her challenger, Alexander L. "Alex" Taylor Jr., a former member of the office.
The choice of a Democratic Party nominee, whose selection is considered tantamount to election, will take place on two days at two locations — 6 to 7:30 p.m. Thursday, Aug. 8, and 10:30 a.m. to 1:30 p.m. Saturday, Aug. 10, it has been announced.
The locations to vote: Richmond Public Library's Main Branch, 101 E. Franklin St. in Downtown, and the South side Community Services Center, 4100 Hull Street Road in Southside Plaza, according to the Richmond City Democratic Committee. The committee is in charge of this process; the Richmond Voter Registrar's Office is not involved.
The "firehouse primary" is part of the process of selecting a replacement for Michael N. Herring, Mr. Taylor who resigned as the city's top prosecutor on July 1. Mrs. McEachin, who most recently has served as deputy commonwealth's attorney, was sworn in July 2 to replace him until the Nov. 5 election.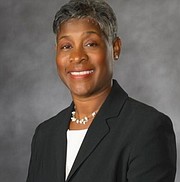 Mrs. McEachin and Mr. Taylor are scrambling to line up supporters to show up at the polls. Both have been knocking on doors and attending community meetings to make their respective cases for election. Party officials have said that a turnout of 5,000 people would be huge, and both candidates indicated that 1,500 votes might be enough to win.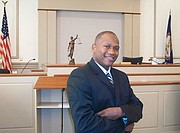 Victory in the nomination contest is considered likely to be decisive. While the deadline to file is Tuesday, Aug. 16, there's no indication the Republican Party will field a candidate. And no independent candidate has stepped forward. The winner of the Democratic Party primary next week could head into the Nov. 5 general election unopposed as Mr. Herring usually was in his four elections.
Mrs. McEachin and Mr. Taylor are both respected attorneys with long track records.
As the challenger, Mr. Taylor, a former prosecutor and former assistant attorney general now in private practice, has promised to increase diversity, noting that the city Commonwealth Attorney's staff of 40 attorneys now includes only one African-American male.
Speaking to a civic group in Blackwell last Friday, Mr. Taylor said he would launch a community engagement initiative that would involve having prosecutors from the office attend civic meetings and other community programs to get a better feel for public views on ways to reduce crime. He also said he plans to involve his staff in mentoring young people, following up on programs he helped create at the city and state levels.
Mrs. McEachin said at the meeting that her office wants to hire more African-American men, but noted that the greatest success has been in attracting a diverse group of female lawyers and staff, making the office one of the largest female-dominated prosecutors' offices in the state.
Committed to continuing the policies of Mr. Herring, including ending cash bail as a prerequisite for pretrial release, Mrs. McEachin said the biggest change she would institute is a diversion program for first-time arrestees charged with nonviolent crimes. That program would allow people arrested for the first time to perform a day of community service without their arrest being put on their record, she said, although she added it would be a one-time reprieve.
She said her plan is based on the diversion model now used for truants and other youths that keep a majority of those arrested out of Richmond's Juvenile and Domestic Relations Court.