Tom Joyner, the 'hardest working man in radio,' retires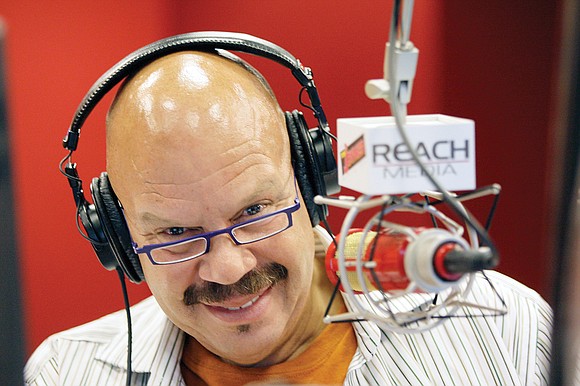 The "fly jock" and "hardest working man in radio" has hung up his microphone.
Tom Joyner — who earned his nicknames when he commuted daily by airplane between Chicago and Dallas for nine years to DJ shows in each city — ended his storied on-air radio career Friday, Dec. 13.
The 70-year-old host of "The Tom Joyner Morning Show" closed down the nation's No. 1 ranked syndicated urban morning show after providing an extended four-hour farewell to his 7 million listeners who tuned in via 105 stations, including KISS 99.3 and 105.7 FM in Richmond. Longtime co-host Sybil Wilkes also signed off.
Ready to retire the "Oh, oh, oh, it's The Tom Joyner Morning Show," Mr. Joyner previously announced that Rickey Smiley, whose morning show now is heard mainly on hip-hop stations, would take over Thursday, Jan. 2, along with two of Mr. Smiley's regulars, Eva Marcille and Gary With Da Tea.
"It's an honor to continue the legacy of my boss and (Omega Psi Phi) fraternity brother," Mr. Smiley said as his show prepares to add the stations that broadcast Mr. Joyner's program. Mr. Smiley's show will begin with excerpts of past broadcasts and go live on Monday, Jan. 6, according to a KISS radio spokesman.
On the air for 25 years, "The Tom Joyner Morning Show" is filling in with rebroadcast excerpts of past shows until Jan. 2. For many, his departure is a disruption of their morning routine.
U.S. Sen. Kamala Harris of California was among those paying tribute. "Tom Joyner is a legend and has played a critical role in building community and lifting up all voices," she stated.
Many others also chimed in on social media.
"It's hard to be entertaining, informative and educational without ever talking down to your audience," wrote sports journalist Bomani Jones. "Tom did that day after day for decades."
Mr. Joyner told CBS News that he is getting out of the business because the money is drying up.
"My goal was to die on the radio, have my funeral on the radio," he said. But after earning $14 million a year at his peak when he had 115 stations carrying the show, he said he had seen his earnings shrink, and he didn't want to accept that.
"It got to a point where they would say, 'All right, we're gonna cut your salary in half, and then in half two years ago' " when he signed his final contract, he said. "Because my salary was based on my results, and not only was I losing affiliates, but the radio industry as a whole was losing traction."
The Urban One radio chain has owned the rights to Mr. Joyner's show since 2004 when it paid $56 million for a majority stake in his Reach Media Inc.
Although other competitors have emerged, such as the popular "The Steve Harvey Morning Show" that has aired on 106.5 FM The Beat in Richmond and 100 other stations since 2000, Mr. Joyner's show never lost its top rating as a community staple in using comedy and entertainment to encourage listeners to care for their health, vote and support historically black colleges and universities.