NBA's Ed Davis headed to the Utah Jazz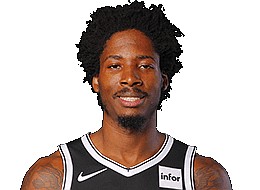 NBA veteran Ed Davis is on the move again.
After just one season with the Brooklyn Nets, Davis has signed a two-year contract worth $10 million with the Utah Jazz.
Davis averaged 5.8 points and 8.6 rebounds this past season for the Nets in 18 minutes per game.
The Utah Jazz will become his sixth NBA team, after playing previously with the Toronto Raptors, the Memphis Grizzlies, the Los Angeles Lakers, the Portland Trail Blazers and the Nets.
In 640 career games, Davis has averaged 6.5 points and 6.8 rebounds.
The 6-foot-10, 30-year-old starred at Hanover High School and Benedictine College Prep before two standout seasons with the University of North Carolina at Chapel Hill.
Davis was the 13th overall draft pick by the Toronto Raptors in 2010.