NCAA bound: VSU men's team plays Notre Dame College Saturday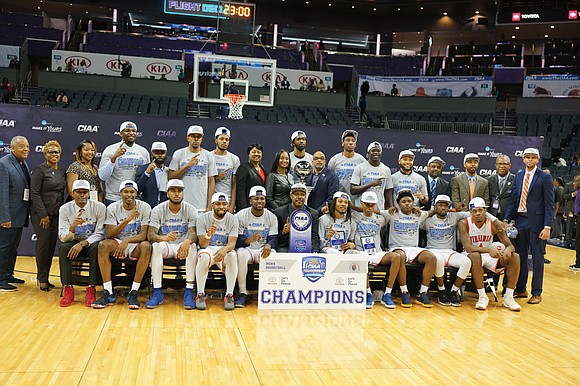 Moving forward
Men's NCAA Division II Atlantic Regional at Indiana University of Pennsylvania
No. 3 seed Virginia State University plays No. 6 seed Notre Dame College of Ohio at noon Saturday, March 16, in the regional quarterfinals.
The semifinal games are Sunday, March 17, with the final on Tuesday, March 19. The regional winner advances to the Elite Eight in Evansville, Ind.
The other first round region matchups: No. 1 seed Indiana University of Pennsylvania plays No. 8 West Chester University of Pennsylvania; No. 4 Mercyhurst University of Pennsylvania plays No. 5 Fairmont State University of West Virginia; and No. 2 West Liberty University of West Virginia plays No. 7 East Stroudsburg University of Pennsylvania.
VSU would not face the tournament host, the Indiana Hawks, until the final.
If the Virginia State University men's basketball team is to advance in the NCAA Division II playoffs, it will have to avoid a roadblock standing 6-foot-8 and weighing 240 pounds.
That roadblock is All-American candidate Will Vorhees of Notre Dame College of Ohio. Vorhees has been billed as the Division II Zion Williamson, referencing the Duke University basketball star. 
The VSU Trojans will face Vorhees & Co. in the NCAA Atlantic Region quarterfinals at noon Saturday, March 16, in Indiana, Pa.
Vorhees averages 29 points and 12 rebounds. In the Falcons' 100-96 win over West Liberty University of West Virginia in the Mountain East Conference final, Vorhees had 29 points, 14 rebounds and eight assists.
Vorhees was the Mountain East Conference Player of the Year, as well as the tournament MVP.
VSU is heading to Indiana University, located 58 miles east of Pittsburgh, with a full head of steam. As the CIAA Tournament champions, the Trojans are 27-4 overall and winners of 23 of their last 24 games.
The Trojans will try and counter Vorhees inside with Jahmere Howze, a 6-foot-6 senior and the CIAA Tournament MVP. Howze has help in the paint from 6-foot-9 William Vedder, 6-foot-7 Armond Griebe and 6-foot-7 Andrew Corum.
This marks VSU's third trip to the NCAAs in the past four years under Coach Lonnie Blow.