Wide receiver Charles Hall moves into the fast lane at VUU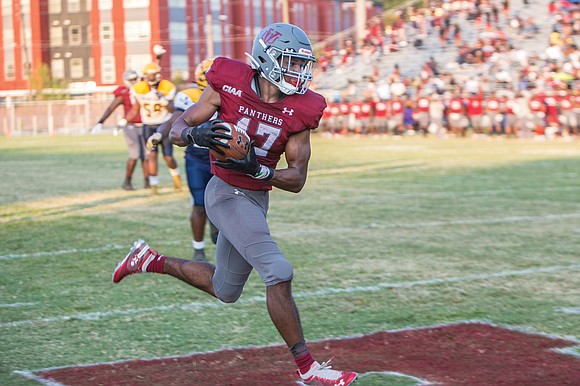 Charles Hall was merely a background figure — little more than an extra — last season for Virginia Union University football.
This year, he has become a leading man.
"Charles waited his turn. Now he's showing what he can do," said VUU Coach Alvin Parker.
The 6-foot, 190-pound sophomore wide receiver from Trenton, N.J., continued his remarkable early season success in VUU's 33-19 win last Saturday over Johnson C. Smith University in the Willard Bailey Classic at VUU's Hovey Field.
Hall, who answers to "Chuck," snared touchdown catches of 74 and 11 yards from Panthers quarterback Khalid Morris. Through three games, Hall has 14 receptions for 398 yards and five touchdowns.
He's most comfortable run- ning deep pass routes, averaging 28.4 yards for each eye-popping catch.
"I feel pretty good" about the season, Hall said. "But I definitely want more. I set new goals each week and push myself to reach them."
A year ago, Hall caught only two passes and was used primarily on special teams kick coverage. He kept the faith.
"There were a lot of older players ahead of me," he said. "I knew that if I worked hard I'd play much more this season."
Hall was part of Coach Parker's first VUU recruiting class. In fact, Coach Parker had begun recruiting Hall earlier when Coach Parker was work- ing as an assistant coach at St. Augustine's University.
"Things happen for a reason," said Hall. "I remember starting to fill out the papers to go to St. Augustine's. Then I got a call telling me to hold up."
Coach Parker became VUU's head coach in December 2017. Hall announced he would attend VUU in January 2018.
"We've got a lot of contacts in New Jersey," Coach Parker said. "That's where Pete Hunter (of Atlantic City) came from and many others."
Hunter is the last VUU Panther drafted into the NFL in 2002.
Hall starred in football, mostly as a defensive back, and track and field at Delran High School in New Jersey. As a senior, he won the New Jersey state high jump and took second in the long jump.
There is plenty of athleticism in Hall's family tree. He is the nephew of Trenton native Troy Vincent, who currently is execu- tive vice president of football operations for the NFL.
"He was my mentor," Hall said of his uncle.
Vincent became a first round NFL draft choice out of the University of Wisconsin and went on to collect 47 career interceptions from 1997 to 2006.
Like Uncle Troy, Hall concentrated on being a defensive back before his conversion to offense at VUU.
While Hall drew raves on offense against Johnson C. Smith University last Saturday, it was Sterling Hammond who turned heads defensively.
Hammond made 10 solo tackles and returned an interception 40 yards for a clinching touchdown.
Special teams highlights were supplied by Jefferson Souza with 42-yard and 22-yard field goals.
The Panthers are 2-1 thus far for the season, with wins over Hampton University and Johnson C. Smith, and a loss to Lenoir-Rhyne University.
Winston-Salem State Uni- versity, which VUU will play this weekend at Hovey Field, is 1-2, with losses to University of North Carolina-Pembroke and Catawba College and a victory last Saturday over Tuskegee University.
The matchup with Winston- Salem State will be VUU's first CIAA game. The contest with Johnson C. Smith did not count in the CIAA standings.
VUU defeated the Rams 27- 19 last year at Winston-Salem. In 2017, the Rams beat VUU 21-20 in the inaugural Bailey Classic.
Saturday, Sept. 28
Virginia Union University plays Winston-Salem State University at Hovey Field
Kickoff: 1 p.m. Lucille Brown Community Youth Bowl. Game broadcast on WNTW radio, 820 AM.