RRHA honors 14 college-bound grads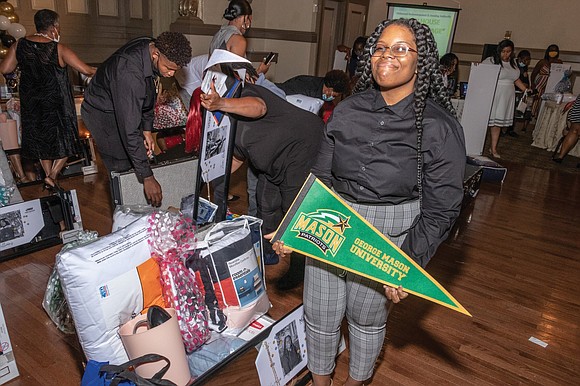 A new laptop computer, a $500 gift card and a trunk overflowing with dorm room supplies.
That's what 14 college-bound students who live in city subsidized housing received in cel- ebration of their academic success from their landlord, the Richmond Redevelopment and Housing Authority.
The presentation was made at the inaugural "Open House in the Village" event that RRHA sponsored with partners July 28 at a Downtown hotel ballroom.
The goal of the new event was to "ensure that these students have what they need for a positive start to their college careers" beyond tuition costs, according to RRHA spokeswoman Angela Fountain.
The items in the trunk included dorm room essentials: Masks, hand sanitizer, sheet sets, a comforter, a pillow, a towel and washcloths, a full-length mirror, a desk lamp, an alarm clock, a desk organizer, a trash can, a laundry basket, binders, notebooks, paper, a shower caddy, toothpaste, soap, mouthwash, a backpack and a water bottle.
RRHA credited Richmond City Council, Harry Co, The Lou Walt Group and RRHA employees for making the event and the gifts possible.
Each of the students was awarded a $2,000 Tomorrow's Promise Scholarship through RRHA's charity arm, Richmond Opportunities Inc., and some received additional scholarships from HAI Group insurance and the Virginia Association of Housing and Community Development officials.
The 14 honorees, and the colleges they will be attending: ShaDajah Cromwell and Alonshay Witcher, Old Dominion University; Amber Dandridge, Zion Dean and Javon Harvey, Virginia State University; Damian Harris, Methodist University; and KeAsia Jasper, George Mason University.
Also, Tanaya Jones, J. Sargeant Reynolds Community College; Jeamia McPherson, Virginia Union University; Jada Reynolds, Radford University; DaQuan Roberts, Richard Bland College; and India Williams, James Madison University. Two others, Mario Fuller-Collins and Jala Phillips, have not yet decided on a college.
According to RRHA, 10 of the students live in public housing communities, with four from Mosby Court, two from Fairfield Court and two from Gilpin Court, one from Afton/Hillside and one from Randolph/Whitcomb. Four others live in Section 8 residences.