K.C. Jones, who won Olympic, NCAA and NBA championships, dies at 88
Fred Jeter | 12/31/2020, 6 p.m.
K.C. Jones and the word "winner" were always synonymous.
Mr. Jones, who helped his various basketball teams win an Olympic gold medal, two NCAA titles and 12 NBA crowns as both a player and a coach, died Friday, Dec. 25, 2020, at an assisted living facility in Connecticut.
Mr. Jones, who had Alzheimer's disease, was 88.
The 6-foot-1 native of Taylor, Texas, was a brilliant defensive player, a solid scorer and will forever be linked to his close friend and teammate Bill Russell.
Mr. Jones and Mr. Russell led the University of San Francisco to 1955 and 1956 NCAA championships while, at one point, winning 55 straight games. While playing for the Dons, the two pioneered the lob pass and dunk that came to be known as the "alley oop."
Mr. Jones and the 6-foot-9 Russell then took their talents to the 1956 Summer Olympic Games in Melbourne, Australia, where they played for the U.S. Olympic basketball team, winning the gold medal with an 89-55 rout over the Soviet Union in the finals.
The next assignment for the two players was in the NBA, where they played with the Boston Celtics.
Under Coach Red Auerbach, the Celtics went on to win 11 NBA titles in 13 seasons. Mr. Jones was a key element in eight of those championships from 1959 to 1966 during his playing career. He scored 5,011 points, grabbed 2,399 rebounds and passed for 2,908 assists as a member of the Celtics.
He was a quick, tenacious defender on the perimeter, knowing that teammate Russell, an elite shot blocker, had his back closer to the hoop.
Following retirement as a player, Mr. Jones quickly transitioned into coaching, starting in 1967 at Brandeis University near Boston. Mr. Jones was an assistant coach for NBA champions in Los Angeles and Boston before becoming a head coach, and later was the head coach in the NBA for Washington, Boston and Seattle.
As a head coach, he led the Celtics to the 1984 and 1986 NBA crowns and posted an overall NBA coaching record of 552-252.
He was selected as the coach for the Eastern team for the NBA All-Star Game on five occasions.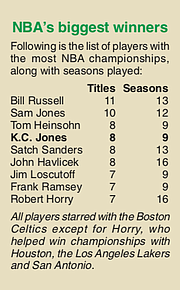 His No. 4 jersey at the University of San Francisco and No. 25 jersey for the Boston Celtics have been retired.
Mr. Jones was named to both the Naismith Memorial Basketball Hall of Fame and the National Collegiate Basketball Hall of Fame.
He is among a select few athletes to win the "Triple Crown of basketball," meaning NCAA, Olympic and NBA championships. Wherever he went, victory followed.