House District 68: Delegate Dawn M. Adams, Democrat (incumbent) vs. Mark Earley Jr., Republican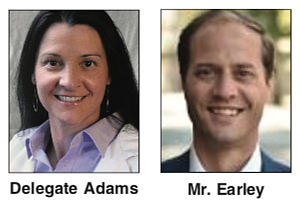 Delegate Dawn M. Adams, who was first elected to represent House District 68 in 2017, has a tough challenger in Republican Mark Earley Jr.
She is the first Democrat in three decades elected to represent the district, which stretches from Richmond's Museum District to the West End and south to the Willow Oaks area, west and south to parts of Henrico and Chesterfield counties.
A nurse practitioner who has championed health care and improved health care access in the General Assembly, Delegate Adams also is the first openly lesbian member of the General Assembly. She lives in The Fan and serves on the Health, Welfare and Institutions Committee, as well as on the General Laws and Privileges and Elections committees. She also was appointed to the Cannabis Oversight Commission.
Delegate Adams has outlined priorities that include raising teacher pay in Virginia above the national average; expanding pre-kindergarten for 3- and 4-year-olds; investing in wider broadband access to close the digital divide; promoting career readiness by building internships and apprenticeships into school curricula; combating maternal mortality rates among Black women; increasing funding for mental health and sub- stance use disorder treatment; and raising the minimum wage to $15 by 2024.
Mr. Earley, a criminal defense attorney, is the son of former Virginia Attorney General Mark Earley Sr. He previously served in former Gov. Bob McDonnell's administration working with the Prisoner and Juvenile Re-entry Council.
The Chesapeake native who lives in North Chesterfield is campaigning to improve public schools and teacher pay; eliminate the state tax on groceries; boost funding for police; make mental health and addiction top priorities; lower taxes; and expand education choices.
As a foster parent, Mr. Earley wants to reform the foster care system by ending the aging out of youths from help and providing more sup- port between adoptive and biological families so children will have stable homes.
Campaign fundraising data on the Virginia Public Access website shows that as of Sept. 30, Delegates Adams has raised $492,348, while Mr. Earley has raised $283,240.