City School Board, NAACP raise concerns about RPS budget proposal
Holly Rodriguez | 2/2/2023, 6 p.m.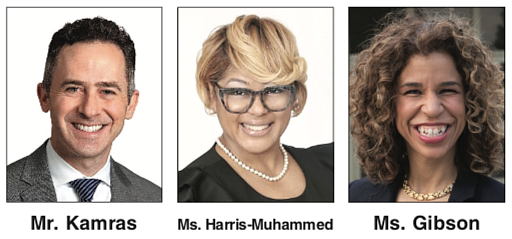 Superintendent Jason Kamras' budget presentation during a School Board meeting last month launched the school division's budget talks for the 2023-2024 school year, while also raising questions about budget allocations for RPS students.
"My main concern is again, a lack of sustainable academic needs," Shonda Harris-Muhammed, 6th District, said in an email. I am deeply concerned that we are asking the leaders of City Council and the mayor for additional funding without the metrics to demonstrate what we have done and how we have allocated current funding."
The School Board and Richmond City Council met last week for the first time in several years to discuss RPS funding needs. The School Board will meet several more times this month to further discuss the budget and a public hearing is set for Monday.
Ms. Harris-Muhammed is not the only Sschool Board member who has concerns and is calling for changes to the superintendent's $35 million budget increase over last year.
Kenya Gibson, 3rd District, said while she agrees with budget dollars going toward honoring the historic collective bargaining agreement reached for teachers and some RPS staff last year, she said resources are needed to address student safety and chronic absenteeism.
"I am pushing for the board to hire an auditor that would focus on identifying issues related to school safety," she said. "In the past year, we've had multiple fires; an autistic elementary school student was found wandering the streets; and students of a high school arrived one morning to see their school's hallways covered in blood after an intruder break-in — clearly protocols aren't being followed and it's our responsibility to address this."
She said though city funding is limited, there is a revenue surplus that should be put toward resolving these issues.
Decisions over allocation of proposed funds will lead the discussion in budget talks. But, concern over reducing unnecessary expenditures motivated Jonathan Young, 4th District representative, to propose some budget amendments, he said.
In a document he shared with the public, Mr. Young suggests measures to resolve 8,625 vacancies that exist across the district's elementary, middle and high schools, including closing five schools. Closing these schools will save expenditures on capital improvements desperately needed, while addressing RPS student vacancies.
These closures, he said, would require those student populations to attend different schools, but he suggests giving those displaced students first choice in choosing which schools they want to attend instead of being told where to enroll.
"The real motivation is to re-think how we do school assignment — what I am suggesting is that we don't tell the students where they have to go," he said in a telephone interview with the Free Press. "I would like us to not only give priority to these student in choosing the school they prefer, but also propose providing transportation to get students there."
RPS currently has an open enrollment process where parents and guardians can enter students into a lottery to attend a school of their choice, instead of the school they are zoned for, each spring. Based on the number of seats available at a particular school, students are notified of their placement in the school, or, placed on a waiting list. When the school year starts, if a student is still on the waiting list for their school of choice, they must attend their zoned school if they are to remain with RPS.
While transportation is offered for students who attend their zoned schools, transportation is not currently provided for students attending a school of their choice in the district.
The Richmond Branch NAACP issued a statement critical of Mr. Young's proposal, stating: "We understand considering low enrollment, but where is the equity?"
The statement goes on to say "If Mr. Young proposed school closings, we expect that the plan will include building new schools to accommodate the change in enrollment. We also expect that the school district will address the bigger picture, which is the drastic decline in student enrollment ..."
In Mr. Young's memo, he includes the number of vacancies at each school. But, he said choosing which schools to close and combine is not neces- sarily determined by the number of vacancies.