Think of groundbreaker George Taliaferro during NFL draft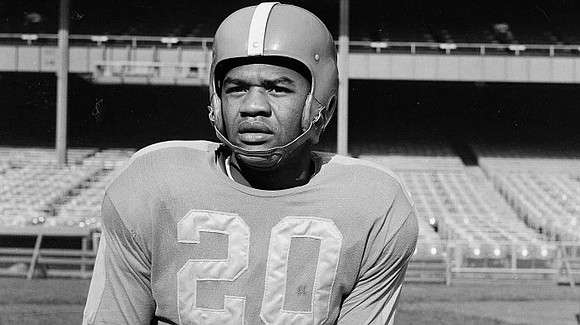 George Taliaferro was a game changer regarding the NFL draft. He also took versatility to a higher level.
From 1937 when the NFL draft began, until 1949, every player selected was Caucasian.
A three-time All-American out of Indiana University, Taliaferro was the first African-American drafted when his name was called in the 13th round of the 1949 draft by the Chicago Bears.
The draft would never be the same. Nowadays, more than half of the ath- letes selected are African-American.
Later, Taliaferro, who died in 2018 at age 91, drew attention for something else. It is widely agreed he is the most versatile performer in NFL history.
He provided whatever was needed, playing seven distinctly different posi- tions — quarterback, running back, wide receiver, punter, punt returner, kickoff returner and defensive back.
In a pro career spanning from 1949 to 1955, he sparkled, passing for 1,633 yards, rushing for 2,266 and receiving for 1,300.
On special teams, he had 5,998 yards in kickoff returns and 319 in punt returns. He averaged 38 yards for his own punts.
Defensively, he had four interceptions and 35 forced fumbles, 27 of which he recovered himself.
That type of versatility would be unheard of in today's much more specialized NFL.
There is a local connection of sorts.
In 1946, following his sophomore year at Indiana, he was drafted into the Army and served 16 months at Fort Lee — then Camp Lee — in Prince George County.
Although he was the first African-American drafted by a pro team, he did not go immediately to the NFL. Instead, he signed a contract with the Los Angeles Dons of the rival All- America Football Conference. His feeling was that the NFL's history of bigotry would deny him a fair shot.
In 1950, the AAFC and the NFL merged.
Taliaferro played in 1949 with the Dons, 1950-51 with the New York Yankees, 1952 with the Dallas Texans, 1953-54 with the Baltimore Colts and 1955 with the Philadelphia Eagles.
He was a three-time Pro Bowl selection.
Selected later in the same 1949 draft was Wally Triplett, picked in the 19th round by the Detroit Lions. A halfback out of Penn State, Triplett became first African-American draftee to actually play in the NFL. Undrafted free agents had played previously.
A few other draft notables:
•Syracuse University running back Ernie Davis was the first African-
American picked first overall, by the Washington NFL team in 1962.
• Defensive end Claude Humphrey, from Tennessee State University, was the first player from an HBCU to be picked in the first round. Humphrey was the No. 3 overall selection by the Atlanta Falcons in 1968.
• Ed "Too Tall" Jones, a defensive end from Tennessee State, was the first player from an HBCU picked first overall, by the Dallas Cowboys in 1974.
Now back to Taliaferro.
While attending Indiana University in Bloomington, Ind., the stellar athlete lived off campus with a black family. African-American students were not allowed to live in school dormitories.
He'd had all he could take one day when he went to a downtown movie theater and spotted a "Colored" sign pointing up to the balcony.
"I removed the two screws and took the sign down," he said. "Then I watched the movie downstairs."
Mr. Taliaferro kept that sign all his life so as not to forget history and also as an incentive to reach for the stars.
Safe At Home
The 2020 NFL draft will be held Thursday, April 23, through Saturday, April 25, with seven rounds and 255 players selected.
Originally, the event was set for Paradise, Nev., but those plans were scrapped because of the coronavirus pandemic.
Forget all the usual theatrics and draftees hugging Commissioner Roger Goodell at the podium. Instead, the event will be held virtually, via phone and internet, with each of the 30 teams selecting from a home base.
Sharing TV coverage of the draft will be ESPN, ESPN2, NFL Network and CBS.