Historic first: A. Benjamin Spencer named dean of W&M Law School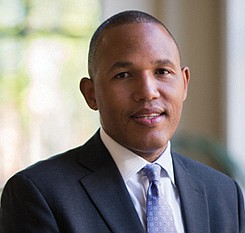 As a University of Virginia law school professor, A. Benjamin Spencer has earned accolades for his knowledge of federal courts and civil litigation.
Now he is about to set a precedent of his own — becoming the first African-American dean of the nation's oldest law school at the College of William & Mary in Williamsburg.
A Hampton native, Mr. Spencer takes charge of the 241-year- old law school on July 1, the school has announced, noting he will be the first dean of color of any school at the state-supported university, which was started earlier in 1693.
Also to be the Chancellor Professor of Law at the school, he will succeed Davis M. Douglas, who served 10 years and is returning to teaching at the law school.
Mr. Douglas described his successor as "a marvelous leader and the right person to help the law school continue its forward momentum."
For Mr. Spencer, his selection will continue a family tradition. His father, Judge James R. Spencer, was the first African-American federal judge in Virginia in 1986, while his grandfather, Dr. Adam S. Arnold, was the first African-American professor at Notre Dame University.
Mr. Spencer's mother, Alicia Spencer, is a retired elementary school principal in Newport News.
"William & Mary is thrilled to welcome Ben Spencer as our next dean of the law school," Dr. Katherine A. Rowe, William & Mary's president, stated in the announcement.
"We sought a leader who values all three aspects of the law: The academy, the bar and the bench," she continued. "Ben brings that broad view of legal practice together with a deep appreciation of the citizen lawyer that has inspired (our) law school since its founding."
A Morehouse College alumnus and 2001 graduate of Harvard Law School, Mr. Spencer also earned a master's in criminal justice policy from the London School of Economics, where he was a British Marshall Scholar. He has built an extensive résumé in the education of law students in Virginia.
He credits his decision to leave private practice to teach the law from an unsuccessful recruitment effort by W&M in 2003.
He stated that he is "tremendously excited after all these years" to finally join the school's "community of impactful scholars," and cited the William & Mary approach to learning and education as an important reason he accepted the position.
Before joining the U.Va. faculty in 2014, he taught at the University of Richmond Law School and at Washington & Lee University, where he served as director of the Frances Lewis Law Center and as associate dean for research.
He currently serves as the Justice Thurgood Marshall Distinguished Professor of Law at U.Va. and also has been a visiting professor at Harvard Law School.
He is a captain in the U.S. Army Reserve Judge Advocate General's Corps, writing briefs and arguing appeals on behalf of the Army.
While at Washington & Lee, he also served as special assistant U.S. attorney for the Western District of Virginia for four years, where he handled pro bono appeals of federal cases on behalf of the government.
His experience includes a stint as clerk for Judge Judith W. Rogers of the U.S. Court of Appeals for the District of Columbia and as a litigation associate for a private firm.
A past winner of the state's Outstanding Faculty Award, Mr. Spencer also is the author of the Wright & Miller Federal Practice and Procedure treatise, which has been renamed the Wright, Miller & Spencer treatise in recognition of his contribution.
An award-winning legal scholar, he also has written two books, "Acing Civil Procedure" and "Civil Procedure: A Contemporary Approach" that is widely used in law schools, authored multiple law review articles and contributed chapters to other law school texts.
Mr. Spencer has served on committees of the Virginia State Bar and the Virginia Bar Association and on the boards of nonprofit groups such as the Virginia Poverty Law Center, the Comfort Zone Camp and the Girl Scouts Commonwealth Council of Virginia.