NFL Hall of Famer Gale Sayers dies at 77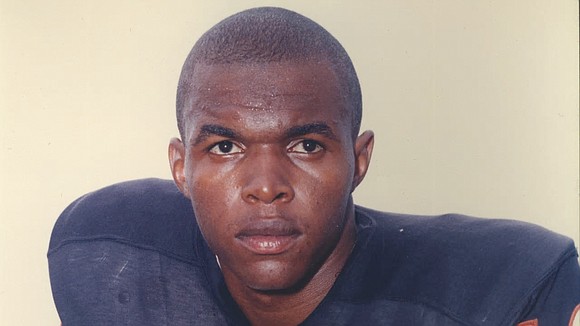 Gale Sayers, remembered for his spectacular athleticism and inspiring friendship with an ailing teammate, died Sept. 23, 2020. He was 77.
Mr. Sayers' NFL career with the Chicago Bears was short but legendary. In just four full seasons from 1966 through 1969, he rushed for 4,956 yards, 39 touchdowns and a 5 yards per carry career average. He averaged 6.2 yards per carry in 1967.
Here's what Bears coach George Halas said of Mr. Sayers' rare gifts:
"If you wish to see perfection as a running back, you had best get hold of the film of Gale Sayers. He was poetry in motion."
The 6-foot, 198-pound, five-time All-Pro was at his best in the open field, eluding defenders with sharp cuts or blowing past them with sprinter speed.
"Just give me 18 inches (of open space) ... that's all I need," Mr. Sayers was quoted as saying.
He scored six touchdowns—running, passing and returning kicks—in a 1965 game against San Francisco in the rain at Chicago's Wrigley Field.
Mr. Sayers set 23 Bears' records and seven NFL records in his short career. He was NFL Rookie of the Year in 1965.
Only knee injuries were able to put the brakes on Mr. Sayers. He played just two games in each of the 1970 and 1971 seasons after knee surgeries limited his considerable skills.
Known as the "Kansas Comet," the former University of Kansas sensation was also a game-breaking performer as a pass receiver and kick returner.
Mr. Sayers was elected to the NFL Hall of Fame in 1977 at age 34, becoming the youngest to ever receive football's highest individual honor.
Still, Mr. Sayers may be known nearly as much for his warm friendship with his white NFL roommate Brian Piccolo, who died of cancer at age 26 in 1971. Their close bond inspired the 1971 movie "Brian's Song," with actor Billy Dee Williams portraying Mr. Sayers and James Caan playing Mr. Piccolo. It was a classic tear jerker, but with a blend of humor.
Sports Illustrated writer Steve Rushin said the movie "made it OK for men to cry."
Their relationship was formed at the height of the Civil Rights Movement in the late 1960s, when race relations were strained and rioting was taking place in cities across the United States. "Brian's Song" couldn't have come at a better time to soothe bitter feelings.
Chicago's 1965 first round draft was perhaps the best of all time. Mr. Sayers was picked fourth overall, just behind future Hall of Fame linebacker Dick Butkus, the third selection.
Following his NFL retirement, Mr. Sayers became athletic director at Southern Illinois University from 1976 to 1981 and later interim athletic director at Tennessee State University from 1985 to 1986. He also founded several technology and consulting businesses.
Mr. Sayers' No. 40 is retired by the Chicago Bears and his No. 48 is retired by the University of Kansas Jayhawks.
Mr. Sayers' pro résumé includes being named to the NFL's 1960s All-Decade Team and to the league's 75th and 100th Anniversary All-Time Teams.