Clarence Avant, 'Black Godfather' of entertainment, and benefactor of athletes and politicians, dies
Hillel Italie/The Associated Press | 8/17/2023, 6 p.m.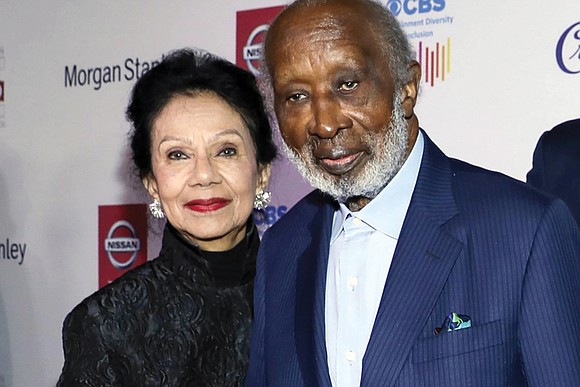 NEW YORK - Clarence Avant, the judicious manager, entrepreneur, facilitator and adviser who helped launch or guide the careers of Quincy Jones, Bill Withers and many others and came to be known as the "Black Godfather" of music and beyond, has died. He was 92.
Mr. Avant, inducted into the Rock & Roll Hall of Fame in 2021, died Sunday at his home in Los Angeles, according to a family statement released Monday.
Mr. Avant's achievements were both public and behind the scenes, as a name in the credits, or a name behind the names.
Born in a segregated hospital in North Carolina, he became a man of lasting and wide-ranging influence, in part by minding two pieces of advice from an early mentor, the music manager Joe Glaser: Never let on how much you know, and ask for as much money as possible, "without stuttering."
"He exemplified a certain level of cool and street smarts that allowed him to move confidently into worlds that nobody had prepared him for, never doubting he could figure it out," former President Obama and former First Lady Michelle Obama, among the many prominent people he befriended, said in a statement.
"Clarence was part of a generation that served as a bridge from a time when there was very little opportunity for Black people to a time when doors began to open. He demanded the world make room, and he paved the way for the rest of us."
Sometimes called "The Godfather of Black Music," he broke in as a manager in the 1950s, with such clients as singers Sarah Vaughan and Little Willie John and composer Lalo Schifrin, who wrote the theme to "Mission: Impossible."
In the 1970s he was an early patron of Black-owned radio stations and, in the 1990s, headed Motown after founder Berry Gordy Jr. sold the company.
He also started such labels as Sussex (a hybrid of two of Mr. Avant's passions — success and sex) and Tabu, with artists including Withers, Jimmy Jam and Terry Lewis, the S.O.S Band and an obscure singer-songwriter, Sixto Rodriquez, who decades later became famous through the Oscar-winning documentary "Searching for Sugarman." (Mr. Rodriquez died last week).
Other work took place more quietly. Mr. Avant brokered the sale of Stax Records to Gulf and Western in 1968, after being recruited by Stax executive Al Bell as a bridge between the entertainment and business industries. He raised money for Mr. Obama and Bill Clinton, helped Michael Jackson organize his first solo tour and advised Narada Michael Walden, L.A. Reid and Babyface and other younger admirers.
"Everyone in this business has been by Clarence's desk, if they're smart," Quincy Jones liked to say of him.
Mr. Avant's influence extended to sports. He helped running back Jim Brown transition from football to acting and produced a primetime television special for Muhammad Ali. When baseball great Henry Aaron was on the verge of surpassing Babe Ruth as the game's home run champion, in 1974, Mr. Avant made sure that Mr. Aaron received the kind of lucrative commercial deals often elusive for Black athletes, starting with a personal demand to the president of Coca-Cola.
Mr. Aaron would later tell The Undefeated that everything he had become was "because of Clarence Avant."
Mr. Avant met Jacqueline Gray, a model at the time, at an Ebony Fashion Fair in the mid-1960s and married her in 1967. They had two children: Music producer-manager Alexander Devore and Nicole Avant, the former U.S. ambassador to the Bahamas and, along with her husband, Netflix CEO Ted Sarandos, a major fundraiser for Mr. Obama. Besides his Rock Hall induction, his honors included two honorary Grammys, an NAACP Image Award and a BET entrepreneur award.
In 2021, Jacqueline Avant was murdered in their Beverly Hills home, her death mourned by Bill Clinton and Magic Johnson among others. Nicole Avant would credit her mother, who became a prominent philanthropist, with bringing to Clarence Avant and other family members "the love and passion and importance of the arts and culture and entertainment."
Born in 1931, Clarence Avant spent his early years in Greensboro, N.C., one of eight children raised by a single mother, and he dropped out of high school to move North. A friend from North Carolina helped him find work managing a lounge in Newark, N.J. and he soon got to know Mr. Glaser, whose clients ranged from Louis Armstrong to Barbra Streisand, not to mention Al Capone. Through Mr. Glaser, Avant found himself in places where Black people rarely had been permitted.
"Mr. Glaser would have me go with him to these dog shows," Mr. Avant told Variety in 2016. "And you've got to imagine I was the only Black person at the (expletive) dog show. He also had these 16 seats behind the visiting dugout at Yankee Stadium, and whenever he'd take me I would try to walk to the back row, and he'd grab me and say, '(Expletive) it, sit your ass up here with me.'"
Mr. Avant became especially close to Mr. Jones, their bond formed through a missed record deal. It was the early 1960s, and Mr. Jones was a vice president at Mercury Records, one of the industry's few Black executives. Mr. Avant was representing jazz musician Jimmy Smith and had heard that Mercury recently signed Dizzy Gillespie for $100,000.
For Mr. Smith, Mr. Avant aimed much higher, closer to half a million.
"Are you smoking Kool-Aid?" Mr. Jones would remember saying to Mr. Avant, who then negotiated with Verve Records.
"He went and got the deal," said Mr. Jones, whose collaborations with Mr. Avant would include the TV series "Heart and Soul" and the feature film "Stalingrad," told Billboard in 2006. "I respected him for that."
As he rose in the entertainment industry, Mr. Avant became more active politically. He was an early supporter of Tom Bradley, the first Black mayor of Los Angeles, and served as executive producer of "Save the Children," a 1973 documentary about a concert fundraiser for the Rev. Jesse Jackson's "Operation PUSH." Three years earlier, when he learned that civil rights leader Andrew Young was running for Congress in Georgia, he gave him a call.
"He said, 'In Georgia, you're running for Congress?'" Mr. Young later told CNN. "He said, 'Well, if you're crazy enough to run, I'm crazy enough to help you.'"
Mr. Avant, whom Mr. Young had never met, offered to bring in Isaac Hayes and other entertainers for a benefit and arranged for it to be held at the baseball stadium in Atlanta.
Mr. Young had forgotten about their conversation when, a month later, signs promoting the show appeared around town.
"We had about 30,000 people in the pouring down rain," Mr. Young said. "And he never sent us a bill."