August spells spirit of giving
Churches, corporations and RPD provide resources for schools, students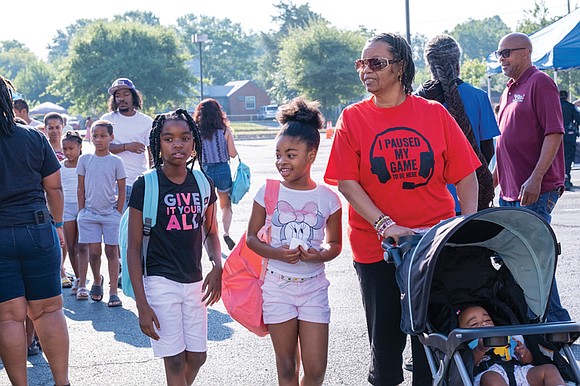 In the weeks and days leading up to Richmond area students entering a new school year, several churches, businesses and other organizations stepped up to provide backpacks, clothing, shoes, lunchboxes and even cash in an effort to ensure that children have the basics for learning.
On Saturday, members of Second Baptist Church at 3300 Broad Rock Blvd. in South Richmond made sure students were ready for the new school year during the church's annual back-to-school backpack giveaway. In addition, the Broad Rock Farmers' Market was part of the event, offering an array of fresh vegetables and fruits. Rounding out the attractions were a bounce house, video game truck, a free CPR class and lunch.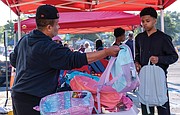 On Aug. 15, the Richmond Police Department Community Youth and Intervention Services Unit (CYIS) hosted its "Shop with a Hero" back-to-school event for nearly two dozen Richmond communities.
Police Chief Rick Edwards and members of the Command Staff and police officers shopped with youths at the Sheila Lane Walmart to purchase clothing, shoes, backpacks, and lunchboxes. Each participating youth was given $100 to shop in the store alongside a police officer.
"The event is part of RPD's Community Cares program, focused on engagement and outreach, allowing officers to strengthen relationships with families and the youths we serve," according to a police department news release.
The spirit of giving and helping area youths also was shown Aug. 10 at the Richmond Raceway, 600 E. Laburnum Ave. when Richmond Public Schools partnered with the CoStar Group, Walmart, Estes Express Lines, Virginia Commonwealth University and Communities in Schools for the 6th Annual Ultimate Backpack Supply Drive.
"(This) marks CoStar Group's fifth year as the lead sponsor of the Ultimate Backpack Sup- ply Drive, and we are pleased to continue our ongoing commitment to this important event," said CoStar Group's Senior Vice President of Global Operations Lisa Ruggles.
"Educational opportunity is an important driver of long-term success, and ensuring that the students of Richmond start the year off on the right foot will have an incredible impact," she said. "We are proud to contribute to the community of Richmond, home to our largest office and thousands of our employees."
Dr. Harold Fitrer, president and CEO of Communities in Schools, noted that "In the spirit of collaboration, we join hands with our partners to equip the young minds of Greater Richmond with the tools they need to shape a brighter future."
The supplies were packed and loaded onto Estes trucks and delivered to schools for distribution to students and families.
"Estes is glad to dispatch its trucks to ensure students start the year with the tools and supplies they need to be successful and confident," said Will Hupp, director of Hub Operations at Estes Express Lines.
"The additional expense that comes with preparing students to return back to school can create a serious burden for families," said Superintendent Jason Kamras. "We are profoundly grateful to our community partners and volunteers for their continued support of RPS students and families because no student should have to worry about walking into class unprepared because they don't have access to the instructional materials and supplies needed to participate in learning."