Thousands gather for March on Washington's 60th anniversary
Jack Jenkins/Religion News Service | 8/31/2023, 6 p.m.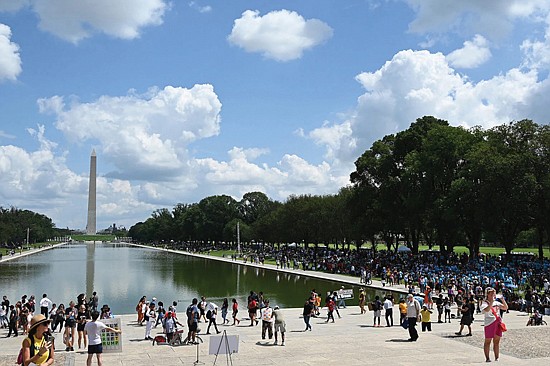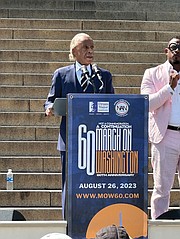 WASHINGTON - Thousands of people assembled near the Lincoln Memorial on Aug. 26 to commemorate the 60th anniversary of the March on Washington, paying tribute to the historic civil rights gathering led by the Dr. Martin Luther King Jr. while voicing new frustrations with political extremism that threatens racial progress.
In his address to a sprawling crowd, the Rev. Al Sharpton, founder of the National Action Network, framed the country's current political contest as a battle between "dreamers" and "schemers."
"Sixty years ago, Martin Luther King talked about a dream," said Rev. Sharpton, referring to Dr. King's famous "I Have a Dream" speech, delivered from the same spot in 1963, in which the slain civil rights leader envisioned a future of racial harmony. "Sixty years later, we're the dreamers — the problem is we're facing the schemers."
Rev. Sharpton explained "dreamers" were those in the crowd and elsewhere who resist various forms of hatred and advocate for causes such as voting rights, women's rights, abortion rights and LGBTQ equality. The "schemers," meanwhile, are their political opponents — including former President Trump, who surrendered at an Atlanta jail this week on charges of trying to overturn the 2020 election results in the state.
"The dreamers are in Washington, D.C.," Rev. Sharpton said. "The schemers are being booked in Atlanta, Ga., in the Fulton County Jail."
As in 1963, a dizzying array of activists, faith leaders, musicians, actors, labor advocates and lawmakers delivered their own impassioned speeches, standing for a broad coalition addressing racial injustice. It is credited with helping to spur passage of the Civil Rights Act of 1964 and the Voting Rights Act of 1965.
Like Rev. Sharpton, the Rev. Jamal Bryant, pastor of New Birth Missionary Baptist Church in Lithonia, Ga., made reference to Mr. Trump's most recent indictment, broadening the term to criticize churches that don't do enough to help those in need.
He called for an "indictment on churches that are silent — they speak in tongues, but don't speak truth to power" and "an indictment of those who have multimillion dollar buildings, but turn a blind eye to those who do not have a standard of living."
Rev. Bryant urged attendees to "serve indictments to those who have been adversarial to the advancement of our people," and singled out conservative figures such as Texas Gov. Greg Abbott, U.S. Supreme Court Justice Clarence Thomas and presidential candidate and Florida Gov. Ron DeSantis.
Rev. Bryant's frustration with Gov. DeSantis was echoed by the Rev. R.B. Holmes Jr., pastor of Bethel Missionary Baptist Church in Tallahassee, Fla. Standing a few feet from the steps of the memorial, Rev. Holmes pointed to Florida's widely criticized efforts to alter the way Black history is taught in the state, including instructing students that African-Americans "developed skills" while enslaved, "which, in some instances could be applied for their personal benefit."
"I'm here because we have a governor in my state of Florida trying to take us back to the dark past," Rev. Holmes told Religion News Service. "I'm here because God has called us to stand up against DeSantis and Goliath. We cannot allow this government, this system, this far-right extreme group, to deny our history, water down Black history, deny Black history, uplift nationalism and diminish Black history."
Rabbi Heather Miller, a Black woman and founder of The Multitudes, recalled the different faiths represented at the 1963 march and offered her presence as evidence of solidarity across different identities and faith traditions.
"When we talk about Black and Jewish unity, we call upon images of Rev. Dr. Martin Luther King and Rabbi Abraham Joshua Heschel marching together 60 years ago on days like these," she told the crowd. "While it is certainly true that there are times when there is disunity between the two identities of mine ... there is an energy in the air right now that seems to be radiating off of everything. And me, getting to stand here as a Black rabbi, it does not get any more harmonious than this."