Voters reject casino bid a second time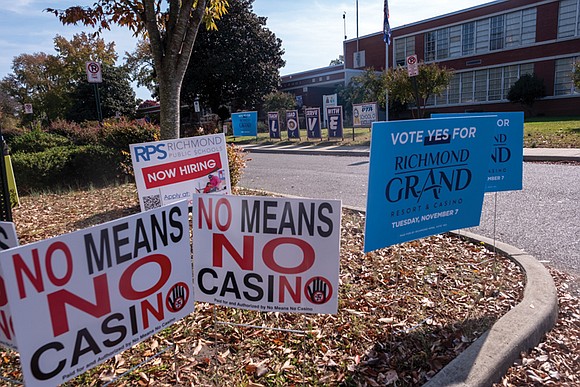 No way. No how.
That was Richmond voters' resounding response to the question of whether a $562 million casino-resort should be developed in South Side.
Of the 65,000 Richmonders who voted early or on Election Day on Tuesday, according to the state Department of Elections, the unofficial results showed nearly 40,000 or 62% voted no, while about 25,000 or 38% voted yes.
Petersburg going for casino
Petersburg Mayor Sam Parham jumped for joy Tuesday after learning Richmond voters had rejected a proposed casino-resort for the second time.
Mayor Parham said he would be contacting members of the General Assembly to urge support for Petersburg as a replacement for Richmond.
The Cockade City has already selected The Cordish Cos. as their preferred developer, and the company previously unveiled plans for a $650 million casino-resort.
During the 2023 session, the legislature rejected outgoing state Sen. Joseph D. Morrissey's efforts to substitute Petersburg for Richmond, clearing the way for a second failed vote in the state capital.
A state study has projected that a casino in Petersburg would be as successful as one in Richmond.
Mayor Parham said Petersburg should have a better chance to secure legislative approval in 2024 and could well have the support of Republican Gov. Glenn A. Youngkin, who has made improving the majority-Black city a priority of his administration.
The vote was a crushing loss for Mayor Levar M. Stoney, who has statewide ambitions, and the eight members of City Council who had strongly backed this second attempt to win voter support after the measure was narrowly defeated in the first vote in 2021.
Results from Tuesday show that the casino measure lost in seven of the nine council districts, winning only the 8th and 9th council districts in South Side. Even in those two districts, one-third of the voters opposed the development.
The huge loss virtually guarantees that no third attempt will be made to seek voter support.
Dubbed the Richmond Grand Resort & Casino, the project was to be a joint venture of Kentucky-based Churchill Downs, which operates racing and gambling venues, and Maryland-based Urban One, the largest Black-owned radio and media company.
In a bid to win, the companies poured nearly $10 million into a high-powered campaign, but issued a concession statement as the voting results showed their plan was a rejection product.
"We are proud to have run a community-centered campaign to create more opportunities for residents of this great city to rise into the middle class," the Richmond Wins Vote Yes Referendum Committee stated.
"We are grateful to the thousands of Richmonders who voted for good jobs and a stronger city, especially those in South Side who poured their hearts into this project," the statement concluded.
As was the case in 2021, the campaign promoted the development as an entertainment center that would create 1,300 jobs, a public park, a concert venue, a 250-room hotel and other amenities.
Council and the mayor had backed the project largely due to the new revenue it would produce. Upon passage, the city was to receive a one-time payment of $26.5 million and was projected to receive $30 million in annual revenues.
Foes argued that the casino could only raise such money by generating huge losses for players, most of whom would be lower income.
Heading into the election, a recent poll had indicated that the campaign was faltering and could fail.
The no side gained a surprise boost in the final weeks from a frustrated Cathy Hughes, founder and chair of Urban One, when she went on air to vent her disappointment with foes seeking to block the casino project.
Speaking on Oct. 18 on Praise 104.7 FM "Richmond Grand Update" program with host Gary Flowers, Ms. Hughes criticized U.S. Sen. Tim Kaine for his past opposition and two Black activists who have publicly opposed the casino, Allan-Charles Chipman and Chelsea Higgs Wise.
According to taped clips from the show, she characterized middle-class Black Richmonders who oppose the casino versus working-class Black Richmonders who support it as "house n—s and field n—s," with Mr. Flowers chiming in that opponents were "self-hating Black people."
Then on Oct. 25, guest radio host Preston L. Brown unleashed another torrent on behalf of Urban One's 99.5 FM The Box, including calling Paul Goldman, the founder and leader of the No Means No Casino Referendum Committee, "a Jew who got the same trait as Judas. He's a white Jew with the background of Judas."
While Urban One pulled Mr. Brown off the air and issued an apology, the damage was done after clips of Mr. Brown's statements began circulating on social media.
In a statement after his campaign won, Mr. Goldman, whose track record includes managing L. Douglas Wilder's historic campaigns for lieutenant governor and for governor, described the election as a repudiation of those who would use such rhetoric in a statement issued after the polls closed.
"The people of Richmond have made the following clear: You can't build a new city on old resentments. For too long, the politics of Richmond has been controlled by politicians and their allies who put their own self interest before the public interest," he stated.
"Today, the people of Richmond said clearly those days are over. Those who can't put aside the politics of resentment need to step aside, and I think we all know who they are," he continued.
Mayor Stoney pledged after the vote to "to continue to be a voice for communities that have been historically overlooked and underserved.
"I will work for more accessible and affordable child care, for good paying jobs, and for an abundance of opportunities for ALL Richmonders — no matter their zip code or socio-economic status."