Library of Virginia's preservation of historic Jackson Ward's 'shining star' collection that tells multiple stories
Debora Timms | 11/16/2023, 6 p.m.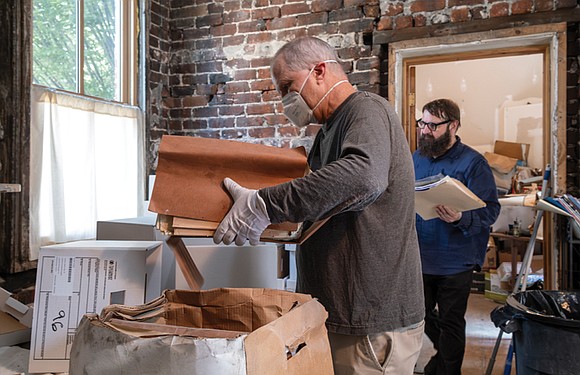 Library of Virginia administrators and staff were "over the moon" when asked to preserve the documents and memorabilia of the late Roland J. "Duke" Ealey, said John Metz, deputy director of collections and programs.
"We're offered papers all the time, but to be offered such a large collection and from a really significant figure in Richmond, if not Virginia state history, "we're still pinching ourselves and we can't wait to get into it," Mr. Metz said.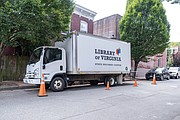 Although Mr. Metz assisted in negotiating the legal acquisition of the collection that was discovered in the Jackson Ward home of James Vigeant and Sasha Finch, the Library of Virginia's Trenton Hizer, senior manuscripts acquisition and digital archivist, and Chad Underwood, senior manuscripts research and digital archivist, worked with the couple to place about 200,000 pages of documents that represent most aspects of Mr. Ealey's life into more than 140 banker's boxes.
"(Mr. Ealey's) legal practice and his involvement in the Richmond Civil Rights Movement is especially interesting to us," Mr. Metz said. "Because he was a lawyer, and he was practicing (law), we can put together more of the network that existed in the Civil Rights Movement in Richmond."
Several steps must occur before the collection is accessible. Step one is the chill factor.
"Like a lot of the private papers collections we get, they are not always stored in ideal conditions," Mr. Metz explained. "We freeze them to kill any insects so that when we bring them over to the main building to be processed, we're not allowing the insects to spread to other collections."
Several degrees of labor intensive research follow.
"From there, it's a very laborious process, particularly for a collection this large," Mr. Metz said. He explained how collections are assessed for various topics or themes, and then organized based on a specific case and its relation to one individual.
Since Mr. Ealey's papers are from the recent past, the archivists also will need to consider if any of the documents contain privacy protected information, such as health records, which are regulated by state and federal laws, or other sensitive information that may pertain to people still living. Such materials must be withheld until a certain period of time has passed.
Preserving and archiving the documents may take more than a year to complete, said Mr. Metz, who added that the goal is to finish the process as quickly as possible to provide access to this information.
To hasten the process, Mr. Metz said the Library of Virginia will actively work to find partners.
Parts of the collection will be digitized in its entirety, whereas most of the collection will be microfilmed.
"That's a lot cheaper and, if you're not in the Richmond area and you want to borrow that microfilm, we can send it internationally," Mr. Metz said. "We will look for multiple ways to facilitate access to this collection.
"In this case, it's really wonderful that it comes to us at a time when there is such interest in the Jackson Ward community and we're hoping that we can form some partnerships around that aspect of this collection," he added. "I think it's a real point of pride for that community that there is this shining star of a collection that tells their story. That's what we're interested most in getting out there."
Shakia Gullette Warren, executive director of the Black History Museum and Cultural Center of Virginia, is particularly pleased about the Ealey documents and their preservation. Such documents, "serve as the basis and example for other freedom movements around the world, while also highlighting the integral role that Virginia has in the context of the national civil rights movement," she said.
The Ealey discovery will help the BHMCC gain more insight into the organizational effects of the Civil Rights Movement, Ms. Gullette Warren added, while also providing a better understanding about "Virginia's distinct role in America's struggle for freedom."