Black women and breast cancer diagnosis — just different, by Dr. Vanessa B. Sheppard
10/26/2023, 6 p.m.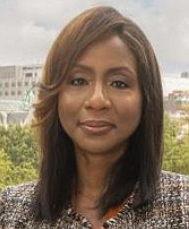 While we have made great strides in improving cancer outcomes among many populations over the last several decades, one group remains consistently, inequitably left behind: Black women in America.
Black women have a 40% higher death rate from breast cancer than white women.
That disparity is even greater among Black women under age 50, where the death rate more than doubles.
I have spent my career working to address inequalities within breast cancer outcomes in partnership with Black women, their families, providers and other community advocates. I currently lead a clinical trial to test the effectiveness of an intervention, Sisters Informing
Sisters (SIS), which pairs newly diagnosed Black breast cancer patients with Black breast cancer survivor-coaches, to work together through treatment decisions and help improve provider-patient communication.
This study was birthed years ago after the loss of a dear friend who could have benefited from tools to inform her treatment decisions. Around a table of survivors in the early 2000s, we reviewed over 500 materials that did have data or images specific to Black women. After years conducting cohort studies in patients and survivors and testing potential solu- tions to the problem of inequity in cancer care, here is what I've learned:
Partnering with community-based groups improves patient engagement, for all communities but particularly for people of color. VCU Massey Comprehensive Cancer Center fosters partnerships with organizations like Trials of Color, Here for the Girls, the Sisters Network and Virginia Breast Cancer Foundation; all of whom raise awareness about breast cancer and specialize in treatment support and/or encourage inclusive clinical trials.
We need studies, beyond clinical trials, that are specifically focused on the experiences of Black women to better understand the higher death rate after diagnosis. We cannot ignore the impact of lifestyle factors that often interact with social drivers of health, which are multilevel beyond the individual's control, but are typically unaddressed in approaches that focus solely on the woman.
We can't influence what type of tumor a patient has at diagnosis, but we can influence how we treat it. Good provider communication is more of a predictive factor in Black women getting chemotherapy promptly and completing their treatment than in white women. That relationship is something we can intervene to change — and that's why I started SIS.
Timely receipt of surgery and systemic therapies influence breast cancer outcomes. Treatment delays in Black women are related to many factors (e.g., insurance, patient and provider factors). Trained survivor coaches, like those involved in SIS, have been through what the patients are dealing with and can help talk through the barriers. Our data has shown that when Black women have strong, trusting therapeutic relationships, they get the care they need, including through clinical trials.
Finding ways to address the existing structures and social drivers of health across a continuum of risk reduction, early detection, equity treatment and robust survivorship care is a job for all of us. The good news is, there are steps individuals can take should they or a family member face this disease.
Get mammograms regularly. Most U.S. medical organizations recommend them yearly after age 40, but some people with family history should start earlier.
Do your homework. Know your breasts through regular self-screening at home so you can identify any changes. This should not replace regular mammograms. Understand your risk status by talking to family members about their own history with breast cancer.
Practice risk reduction. This involves maintaining a healthy weight, exercising, and reducing or stopping smoking and drinking. Again, understand your risk status by talking to family members about their own history with breast cancer. Share the history with your physician to determine if genetic counseling is right for you.
Advocate for yourself. If you think something is wrong, push for a screening. We've heard too many stories of women getting delayed diagnosis because they were under 40 years of age.
Find clinical trials. As an NCI-designated Comprehensive Cancer Center, Massey offers clinical trials that you may not find at other places. And it's not just here in Richmond—through our Minority/ Underserved NCI Community Oncology Research Program, we offer clinical trials at affiliate sites across the commonwealth to make the latest advances in treatment more accessible to everyone.
These statistics facing Black women should be a clarion call. We need more people specifically trained in how to address issues of health inequity, across roles in healthcare teams. We shouldn't be having this same conversation 10 years from now, but it's going to take all of us to ensure that.
Dr. Vanessa B. Sheppard is the associate director for Community Outreach Engagement and Health Disparities at the VCU Massey Comprehensive Cancer Center. She also is the interim founding dean of VCU's new School of Population Health, professor and the Theresa A. Thomas Memorial Chair in Cancer Prevention and Control. Dr. Sheppard's research focus is cancer disparities with an emphasis on breast cancer, cancer care delivery, behavioral trials and longitudinal cohorts. She was named the American Cancer Society's Researcher of the Year in 2023.