Governor 'bans the box' for state job applications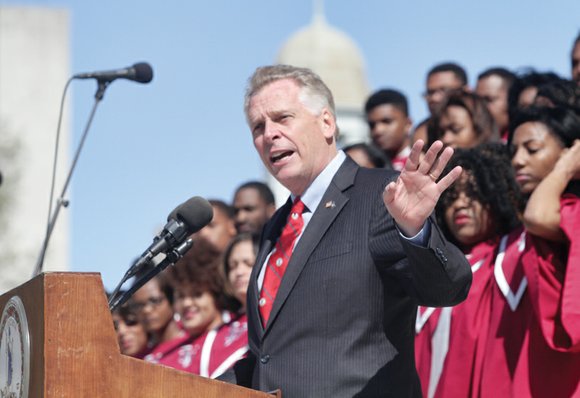 A small change that Gov. Terry McAuliffe just made in the state's job application form could have a big impact on thousands of job seekers like Genevieve Carter of Richmond.
As a result of the governor's executive order, Ms. Carter no longer will have to disclose she has been convicted of a crime in filling out an application for a state position.
She's thrilled the governor is "banning the box," or eliminating the question requiring state job applicants to check whether they ever have been convicted of a felony.
"I've put in dozens of applications, but I never heard back because I had to check the box. I know my applications went straight to the wastebasket," said the 41-year-old city native who served time 10 years ago for credit card fraud.
She is still trying to rebuild her life.
Even though her rights have been restored, "I haven't even been able to get an interview for a janitor position," said Ms. Carter, who has earned an associate degree in business administration from J. Sargeant Reynolds Community College.
She works as a seamstress at a dress shop owned by a friend, but she hopes the governor's action means state hiring officials finally will take a look at her credentials and consider what she has to offer.
That was the governor's purpose.
"I believe in second chances," he said last week as he announced his "ban the box" order at Goodwill's Richmond operations center on South Side.
He said his order is designed to give "every Virginian a meaningful opportunity to compete for jobs" with the state, whatever their past record.
Virginia joins 13 other states and more than 90 cities, including Richmond, that have approved "ban the box" laws since 2000, according to the National Employment Law Project (NELP) of New York.
With his order, the governor bypassed the General Assembly where bills to "ban the box" or eliminate criminal history disclosure have failed to gain traction. This year, a bill passed the Senate, but was quickly killed in a House committee.
How much impact his order will have on actual hiring at state agencies is uncertain.
State personnel officers can continue to conduct criminal background checks on applicants who have been deemed eligible for a position and are being considered for the job.
And people seeking a position classified as sensitive, or with an agency such as the Virginia State Police, still will be asked about their criminal past on the application.
Still, this kind of effort to provide a "fair chance" is needed, NELP officials note, because of the large numbers of people with criminal histories. Best estimates are that nearly one in three adults in Virginia and across the country have records that could block them from gaining a job, according to NELP. That translates into 70 million adults nationally.
The governor's action drew quick praise from legislators who have supported the change, as well as from advocates who have urged the state to do more to assist felons who have served their time.
Hampton Sen. Mamie Locke, chair of the Virginia Legislative Black Caucus, applauded the governor's action as a step forward for people who need a helping hand.
So did Henrico Sen. A. Donald McEachin, chair of the Senate Democratic Caucus, who pushed a "ban the box" bill last year and was a co-patron for Petersburg Sen. Rosalyn R. Dance's bill that was killed in the House this year.
The governor "has done the right thing," he said. "Giving folks an opportunity to get good paying jobs gives them a better chance of succeeding in our society and of not becoming repeat offenders."
Hasan K. Zarif, who has led Goodwill's re-entry program for released felons since 2007, said, "This is a great executive order."
However, he said people still "need to prepare themselves."
"They need to go to job centers like ours to get their résumés in shape, to get help to dress properly and to practice interviews," he said. "Banning the box may help you get your foot in the door, but it takes more to earn consideration for a position."