Oklahoma deputy charged with manslaughter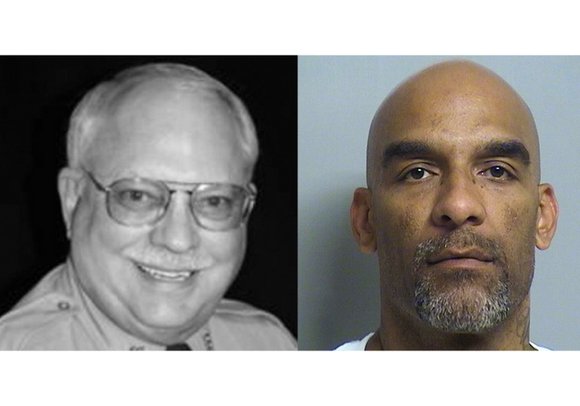 A white reserve sheriff's deputy in Oklahoma was charged with manslaughter Monday in the death of a black man who he fatally shot as he lay on the ground.
Tulsa County, Okla., prosecutors filed a second-degree manslaughter charge against 73-year-old Robert Bates, a reserve deputy with the Tulsa County Sheriff's Office.
A police investigator said Mr. Bates told him he thought he drew a stun gun, not his handgun, when he fired the lethal shot that killed 44-year-old Eric Harris in the April 2 incident.
Mr. Harris was treated by medics at the scene and later died in a Tulsa hospital.
Mr. Bates surrendered and was booked Tuesday at the Tulsa County Jail, then released after posting $25,000 a bond.
His attorney, Clark Brewster, told reporters that his client would not make a statement, then he ushered him into an SUV.
Mr. Bates, an insurance executive who was volunteering on an undercover operation, is slated to make an initial court appearance Tuesday, April 21.
It's the latest shooting of an African-American man by a white police officer to draw scrutiny. Police treatment of African-Americans and other citizens of color has become a major issue in the U.S. after the killings of unarmed black men in Ferguson, Mo., New York City and North Charleston, S.C.
A video recorded by an Oklahoma deputy with a camera mounted on sunglasses and released last Friday shows a deputy chase and tackle Mr. Harris, who authorities said tried to sell an illegal gun to an undercover officer. A gunshot rang out as the deputy wrestled with Mr. Harris on the ground, and a man says: "Oh, I shot him. I'm sorry."
In the video, another deputy appears to restrain Mr. Harris by holding his head to the ground with his knee. When Mr. Harris complains that he has been shot and is struggling to breathe, a deputy replies in a profanity-laden outburst that he was shot because he ran and that he should stop talking.
Meanwhile, as Walter L. Scott was laid to rest last Saturday in Summerville, S.C., a week after he was fatally shot in the back while running away from a white police officer, at least two people have come forward accusing the former officer, Michael Slager, of earlier incidents of brutality.
Mr. Slager is being held in jail without bond after he was charged with murder in the slaying of Mr. Scott. He also was fired from the police department. Prosecutors have said they would not seek the death penalty against Mr. Slager.
Mr. Slager also is accused of using excessive force during an August 2014 traffic stop in North Charleston in a lawsuit filed April 10 by Julius Wilson. Mr. Wilson was stopped for driving with a broken taillight, the same offense Mr. Scott was pulled over for the day he died.
Mr. Wilson says Mr. Slager and two other officers pulled him from his vehicle, restrained him face-down on the pavement and Mr. Slager fired a stun gun into his back.
Another South Carolina man, Mario Givens, said he plans to file a lawsuit against Mr. Slager after his own complaint of abuse nearly two years ago was dropped following a brief police probe.