Enough is enough
Freddie Gray's spine nearly severed, larynx crushed while in police custody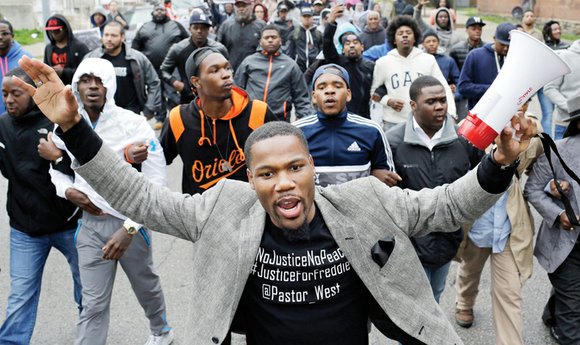 BALTIMORE
What happened to Freddie Gray?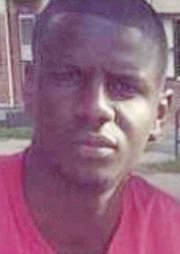 People across the nation are demanding to know after the 25-year-old black man suffered a fatal spinal cord injury under mysterious circumstances after being arrested by Baltimore police and put into the back of a police van.
Mr. Gray died April 19, a week after police handcuffed him, forced him into the van and transported him to a hospital.
Officers said they apprehended him after he fled on foot after making eye contact with approaching police officers in an area of West Baltimore they said is known for drug dealing and other criminal activities.
Baltimore Police Department officials said they have no evidence that their officers used excessive force. A lawyer for Mr. Gray's family accuses the department of a cover-up.
As the U.S. Justice Department opened a civil rights inquiry Tuesday into Mr. Gray's death, police officials announced that six officers involved with Mr. Gray's arrest were suspended.
They were identified as Lt. Brian Rice, 41, who has been with the department since 1997; Sgt. Alicia White, 30, with the department since 2010; Officer Caesar Goodson, 45, who has been there since 1999; and Officers Garrett Miller, William Porter and Edward Nero, who joined the force in 2012.
Baltimore Mayor Stephanie Rawlings-Blake and Police Commissioner Anthony W. Batts called for calm to allow police to complete their investigation into Mr. Gray's death. Authorities said they expect to conclude it by Friday, May 1. From there, the case will go to the state's attorney's office, which will decide whether any criminal charges will be filed.
"Mr. Gray's family deserves justice, and our community deserves an opportunity to heal, to get better and to make sure that something like this doesn't happen again," Ms. Rawlings-Blake said.
She said she intends to find out why police stopped Mr. Gray in the first place.
Hundreds of demonstrators have taken to the streets since Monday, demanding answers, justice and a stop to the police killings. The protests have been peaceful and protesters show no signs of letting up.

Chanting "Black Lives Matter" and "Justice for Freddie," demonstrators marched Tuesday evening on the block where Mr. Gray was arrested. The Rev. Jamal Bryant of the Empowerment Temple in Baltimore asked for a moment of silence. Mr. Gray's relatives, including his mother, Gloria Darden — her head shrouded in the hood of a sweatshirt — paused quietly.
She later collapsed in tears and was led away by family and friends.
"This is a grieving family that deserves answers," Rev. Bryant said. "It's a sign of strength, of one unity and one commitment that we will not rest until we get justice for Freddie Gray.
"The world is watching, and the world needs to see that black Baltimore is unified," he added.
More demonstrators assembled in front of the Western District police station Wednesday afternoon and also planned to rally Thursday in front of City Hall.
Last Saturday, demonstrators from a separate group called "March2Justice" rallied in Baltimore to support those calling for justice for Mr. Gray.