A home of her own
Agencies help homeless woman with new start
Joey Matthews | 2/12/2015, 1:15 p.m. | Updated on 2/13/2015, 1:15 p.m.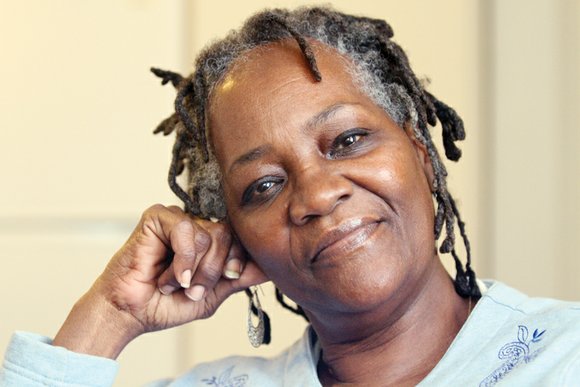 Joanne H. Murray greeted the visitor to her apartment with a warm smile.
She sat on a small couch in the modest one-bedroom dwelling on the city's North Side.
Hearing her talk, you'd think she was living in a palatial home in a gated community.
"This is my home, and I love it. I really enjoy being here," she declared. "I'm comfortable here."
She had a good reason to express such gratitude.
In the past few years, she has seen the ugly face of homelessness after she lost her home and nearly her hope.
She fell on hard times, she said, from setbacks related to a divorce.
"One thing led to another and I found myself with nowhere to live," she said. "I thought, 'How did this happen to me?' "
At first, she said, she stayed with family and friends, but eventually moved into the CARITAS overnight shelter program "because I didn't want to be a burden to anyone anymore."
She endured some of her most painful moments, she said, when she was forced to stay in the city's cold weather emergency overflow shelter from 2013 until this year.
"I had been a home owner before and it was hard for me to make the adjustment to living in the shelter," Ms. Murray, now 62, told the Free Press recently.
"I knew it was an upward battle to get out, and I started feeling hopeless," she added. "But I was still thankful, because it was better than not having anywhere to stay at all."
Before falling on hard times, Ms. Murray, a native of Durham, N.C., said she worked as a customer service representative with the Richmond Department of Public Utilities from 1981 to 1987. She later worked temporary jobs through staffing agencies and attended J. Sargeant Reynolds Community College, where she graduated in 2000 with an associate degree in legal assisting/civil litigation.
From 2007 through 2010, she said she was a broker with her own real estate company, JM Murray Realty in Richmond, and later worked as an administrative assistant in the senior employment program at AARP.
After the divorce, Ms. Murray said she continued to work temporary jobs, but never could save enough money to afford permanent housing. "Some places required you to make two-and-a- half times what you paid each month for rent and I didn't make that much," she said.
She said she began to feel trapped in homelessness after months of living in the city's cramped overflow shelter, located for the second consecutive winter inside the Public Safety Building, 501 N. 9th St. in Downtown. She and most others in the shelter slept on thin mats on the hard floor.
No food is provided and residents wishing to bathe must use bathroom sinks.
Thomas Fitzpatrick, deputy director of the city's Department of Social Services, said, "This is a shelter of last resort. It's a safe, warm place to get people out of the cold."
Jay Brown, director of housing at Commonwealth Catholic Charities, the organization that refers people to the shelter and runs it, said the goal "is to move them quickly to housing or other support services."