Free Press wins 3 national awards
7/7/2015, 10:41 a.m. | Updated on 7/7/2015, 10:41 a.m.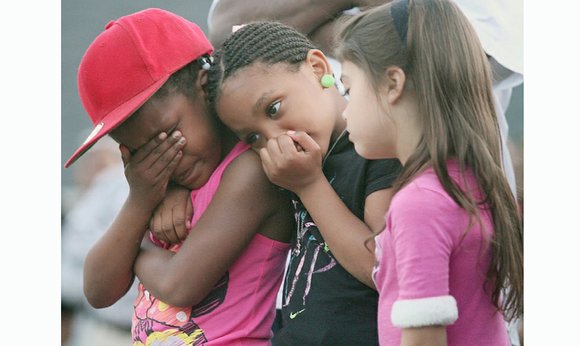 The Richmond Free Press was recognized with three national awards at the National Newspaper Publishers Association's annual convention in Detroit.
The event celebrated the 75th anniversary of the news organization that represents more than 200 newspapers owned by African-Americans across the United States.
The theme: "Empowering a New Generation of Leadership."
Free Press President/Publisher Jean Patterson Boone attended the five-day event, receiving the awards that were announced at the NNPA's gala banquet June 18.
The Free Press awards:
• The Robert S. Abbott Award for Best Editorial, for "No time for hate," published in the Oct. 9-11, 2014, edition. The editorial saluted the court decision legalizing same-sex marriage in Virginia.
• The Wilbert L. Holloway Award for Best News Pictures, for Sandra Sellars' poignant photograph published in the May 8-10, 2014, edition. The photo captured the grief and pain of three young girls attending a neighborhood memorial vigil for their slain friend Marty Cobb, 8, who was killed defending his sister from a sexual assault in South Richmond.
• Best Church Page Award, saluting the content, feature treatment, photos and layout of church sections published in two consecutive issues.
The award honored the Free Press' July 24-26, 2014, edition with photos showing the cleaning of brickwork near beautiful stained-glass windows at Hood Temple AME Zion Church in Jackson Ward and an article about a woman who runs a nonprofit center on South Side that provides clothes and other aid in the community.
The award also honored "Celebrating Eid al-Fitr," a photo package in the July 31-Aug. 2, 2014, edition showing hundreds of Muslim worshippers gathered at the Greater Richmond Convention Center in Downtown to pray and celebrate the end of Ramadan.
Among the other winners, the 2015 Russwurm/Sengstacke Trophy for General Excellence was awarded to the St. Louis American and its publisher, Dr. Donald Suggs. The 2015 NNPA Publisher of the Year Trophy was awarded to Molly Belt of The Dallas Examiner.