Body cameras coming
Joey Matthews | 7/17/2015, 4:31 a.m. | Updated on 7/17/2015, 4:31 a.m.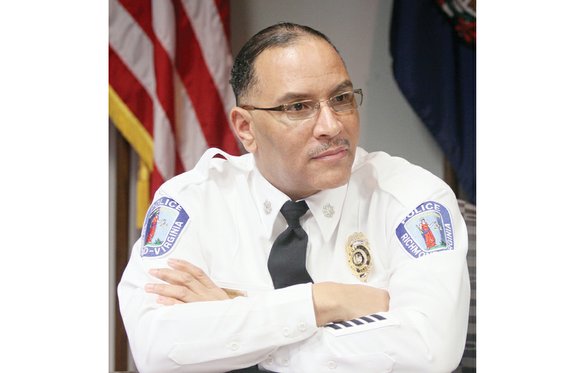 Richmond police officers could be wearing body cameras as early as this fall.
Chief Alfred Durham said Tuesday the nearly 740-officer force should have about 200 body cameras purchased and ready for use by officers "by October or November."
He made his remarks during a news conference at police headquarters on Grace Street at which he and Mayor Dwight C. Jones touted mostly declining rates in major crimes across the city through the first six months of 2015.
Tammy D. Hawley, a spokesperson for the mayor, told the Free Press the body cameras and related technologies are to be purchased with an appropriation of about $400,000 from the City Council for fiscal year 2016.
Chief Durham said he also wants to bring the NAACP and ACLU "to the table" to make sure the department gets it right in utilizing the body cameras to ensure transparency in interactions between "police officers and citizens."
Mayor Jones has been a proponent of procuring body cameras and sought funding from City Council to make them a reality in Richmond.
"Black Lives Matters" demonstrators in Richmond also have demanded police officers be equipped with body cameras to record citizen interactions with police. Groups across the country have sought to curtail incidents of police brutality against unarmed black men and boys in the wake of the killings of Walter Scott in Charleston, S.C., Eric Garner in New York City and 12-year-old Tamir Rice in Cleveland, among others.
"As police shootings are coming under more scrutiny, the more factual evidence we have, the more photographic evidence we have could cut down on the ambiguity of accusations of police brutality or whether individuals are involved in provoking the kind of incidents that we've seen," Mayor Jones told the Free Press after the news conference.
"I think it's a huge step in bringing clarity to that situation," he added.
At the news conference, Chief Durham noted that the rates of major crimes had declined in six of seven categories measured by the department through June 30, compared to the same time last year.
For the first six months of the year, there have been:
• 17 homicides, compared with 23 in 2014, a 26 percent decline.
• Eight reported rapes, compared with 10 in 2014, a 20 percent drop.
• 236 robberies, compared with 265 in 2014, an 11 percent downturn.
• 265 aggravated assaults, compared with 306 in 2014, a 13 percent decline.
• 682 burglaries, compared with 852 in 2014, a 20 percent drop.
• 321 auto thefts, compared with 333 in 2014, a 4 percent fall.
The only uptick was in arsons, with 31, compared with 22 in 2014, a 41 percent increase.
"Crime is continuing to trend downward," Chief Durham said.
He attributed the declines to solid police work, successes by the police in gaining the trust of the community, media coverage of the Richmond Police Department's efforts and the backing of Mayor Jones and other city officials.
The chief also reported that 96 illegal firearms have been taken off the streets since the department's Fugitives and Firearms Initiative started June 3.
He said officers also had taken a plethora of illegal drugs off the streets and had made a number of arrests of people wanted on warrants.