First 100 days
Police chief reflects on good, bad, ugly
Joey Matthews | 6/9/2015, noon | Updated on 6/9/2015, noon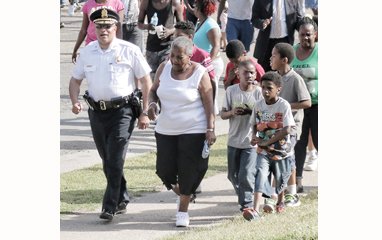 He also announced that the Richmond Commonwealth's Attorney's Office has notified him it will not criminally charge Officer Stacy Rogers for shooting a man during a foot pursuit in April outside a hotel on Midlothian Turnpike.
The incident began when Officer Rogers approached Roderick D. Hardy of Dinwiddie County in front of a room at the hotel. Wearing a police uniform, he identified himself as an officer and asked to speak with Mr. Hardy, who then began running, according to police.
The Commonwealth's Attorney's Office has confirmed Officer Rogers' account that Mr. Hardy pulled a gun during the pursuit and pointed it at the officer after the fleeing man fell to the ground. Officer Andre Guevara also was involved in the chase.
Officer Rogers fired a single shot that struck Mr. Hardy in the chest. He was taken to the hospital, treated and now is being held in the Richmond Justice Center awaiting trial on charges of assault on a law enforcement officer, possession of a firearm by a felon and brandishing a firearm. His gun was recovered immediately following the incident.
Chief Durham praised the Richmond community for letting the investigation take its course and said Officer Rogers is back on the job. He was placed on administrative leave with pay pending the results of the investigation.