Personality: Frances T. Hayes
Spotlight on host chapter president of Club Dejouir's 60th conclave
6/27/2015, 12:02 a.m.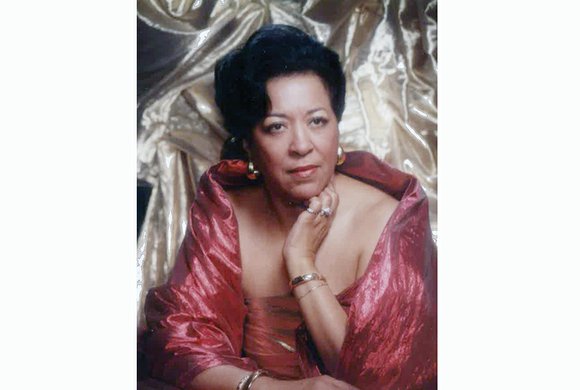 Frances T. Hayes served two terms as president of the Richmond Chapter of Club Dejouir Inc. in the 1970s.
Now, four decades later, she has embarked on her third term as president of the nonprofit women's social and civic organization.
Mrs. Hayes took the reins of the group again in December 2014, "upon the untimely death of Ethel 'Cootie' Lovings," she explains.
Her term is scheduled to expire in 2016.
Mrs. Hayes, a Richmond native and retired teacher, faced big challenges as soon as she assumed the presidency this go-round. The Richmond chapter is hosting Club Dejouir's 60th National Conclave in Metro Richmond. They have been organizing it since 2012, led by Jean Fountain, the chapter's conclave planning committee chair.
The conclave is scheduled from Friday, June 26, through Sunday, June 28, at the Wyndham Virginia Crossings Hotel and Conference Center in Henrico County.
About 60 Dejouir members from across the nation are expected to attend the weekend of fun that is being called "Champagne and Diamonds — A Dejouir Sparkling Affair."
Planned activities include a Hawaiian-themed social Friday night, a "Black Tie Gala" dinner-dance Saturday and a farewell breakfast Sunday.
The first Dejouir chapter was formed in Washington in 1955. Today, there are six chapters in the Mid-Atlantic region. Mrs. Hayes and a group of newlyweds formed the Richmond organization in 1955 "to plan events and enjoy life together," she explains.
"Our mission is to promote a social atmosphere among women of like ideals and to stimulate active participation in civic, fraternal and charitable activities of our city, state and nation," she explains. The Richmond chapter currently has 11 members, she says.
In her role as president, Mrs. Hayes says she will seek to "recruit new members to ensure our legacy continues." Here's a look at this week's Personality, Frances T. Hayes:
Date and place of birth: March 31 in Richmond.
Current home: Henrico County.
Alma maters with degrees: Bachelor's degree, Virginia Union University; master's degree, Virginia Commonwealth University.
Family: Husband, an adult son and daughter and one granddaughter.
What makes a successful conclave: The leadership, planning and active participation of members on various committees.

How I feel now that conclave is here: Relieved.
How I will feel when it's over: Elated.
How I hope visiting Dejouirs and Diques will feel when they leave Richmond: Enthused and motivated.
Brief profile of membership: Our membership includes mature educators and business professionals.
The Richmond chapter has achieved: The Richmond chapter was supportive of the early efforts to make sickle cell research a priority for study at the Medical College of Virginia. Florence Neal Cooper Smith of Richmond, a founder and former member of the organization, worked tirelessly to keep this emphasis on the forefront. Today, Mrs. Smith has been identified to have a chair dedicated in her name at Virginia Commonwealth University. On June 27, our organization will recognize her for making commendable inroads in promoting sickle cell research. She will receive a financial contribution toward the funding of the chair in her name.

Definition of leadership: The ability to inspire a shared vision and guide others to accomplish agreed upon goals.
Involvement of Dejouirs in the community: Our contributions include the Haiti Relief Fund, United Negro College Fund and the Martin Luther King Jr. National Memorial Project Foundation Inc. Other support includes volunteer services and goods to the YWCA Battered Women's Initiative.

Dream for the chapter: Health, happiness and active participation in city, state and national civic endeavors.
If I could have my wish, it would be: Growth in membership and sustained programming over the next five years and onward.

Nobody knows: I am afraid of steep stairs.
Best time of my life: My family's 1973 reunion at Ocean Pines, Md., on Teele Bay.
Outlook at start of day: Thankful and positive.
End of day: Prayerful.
How I unwind: Reviewing the events of the day with my husband.
What people think when they first meet me: I don't look my age.
My friends like me because I'm: Caring and honest.
The one thing that I can't stand: Friction and negativity.
The person who influenced me the most: My mother.
The book that influenced me the most: "Lest We Forget" by Velma Maia Thomas.
What I'm reading now: "Richmond's Unhealed History" by Ben Campbell.
My next goal: To teach Vacation Bible School this summer.