Judge Spencer to VUU grads: Don't let others deter you
5/15/2015, 1:28 p.m.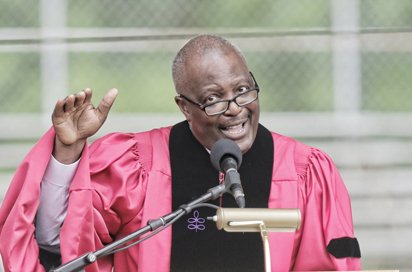 "Make your haters your motivators."
That was the message Judge James R. Spencer delivered to 320 graduates at Virginia Union University's commencement Saturday at Hovey Field.
Judge Spencer, a senior U.S. District Court judge who presided over the recent corruption trials of former Gov. Bob McDonnell and his wife, Maureen, spoke of his own tribulations of overcoming low expectations from others to reach his position on the bench.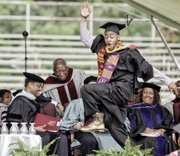 He told the gathering of proud parents, friends, faculty and graduates how he turned in an assignment in his fifth-grade class in "very segregated South Carolina" about what he planned to do with his future.
He wrote about how he planned to go to college, and his teacher — the "very horrible Mrs. Cunningham" — told him, "Boy, you need to be practical."
He recalled how she continued to try to dampen his aspirations. She told him nobody in his family had gone to college and that, "You have about as much chance of going to college as I have of being Miss America."
Undeterred, Judge Spencer graduated magna cum laude from historically black Clark College in Atlanta and cum laude from Harvard Law School, then earned a divinity degree from Howard University.
"I don't know, maybe Mrs. Cunningham is Miss America — in hell," he told the applauding audience.
Judge Spencer was appointed to the federal bench in 1989 and became the first African-American chief judge in the 215-year history of the court in 2004.
He told VUU graduates they, too, should persevere to reach their goals, regardless of what others tell them.
"In spite of the Mrs. Cunninghams of the world, you can make it if you try," he said. "Somebody in this class is going to be great. It might as well be you."
Valedictorian Renee C. McGilvary of Richmond thanked her professors "for seeing something in me that I didn't see was there."
She said her first thought when she arrived at VUU was "to lay low and get out of here as fast as I could."
She said her parents told her their family is descended from great people who overcame brutal hardships and paved the way so they could attend college and have the opportunity to gain a first class education.
She urged her fellow graduates when they face tough times to "get up, dust yourselves off, see what you did wrong and then fix it, and try it again."
Dr. W. Franklyn Richardson, chairman of the VUU Board of Trustees, told the graduates they are "custodians of our future."
The commencement was the climax to VUU's yearlong celebration of its rise from its founding 150 years ago at Lumpkin's Jail in Shockoe Bottom as a school for newly freed slaves at the end of the Civil War to its current home at 1500 N. Lombardy St. on North Side.
VUU President Claude G. Perkins also recognized the 14 Class of 1965 Golden Alumni who were active in the Civil Rights Movement and who "set a very high mark" for the Class of 2015 to surpass.
Honorary degrees also were awarded to Thomas F. Farrell II, Dominion Resources chairman, president and chief executive officer; Brig. Gen. Mitchell Kilgo, the chief information officer and G6 of U.S. Army Forces Command at Fort Bragg, N.C.; Bishop Rudolph W. McKissick Jr. of Bethel Baptist Institutional Church in Jacksonville, Fla.; and Patricia Carter Ives Sluby, a registered patent agent and past president of the National Intellectual Property Law Association.