Jay Z, Beyoncé bailed out Baltimore protesters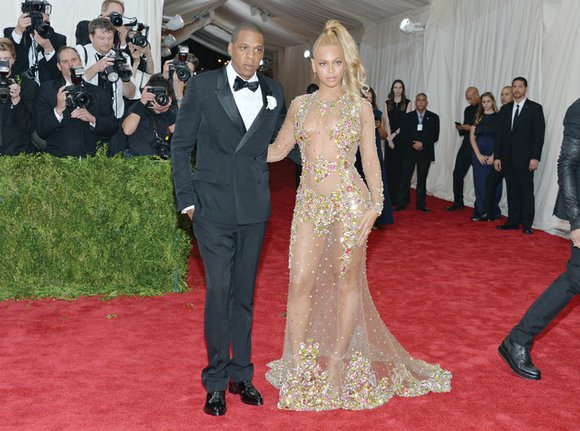 Power couple Jay Z and Beyoncé have privately donated tens of thousands of dollars to help bail out of jail demonstrators arrested while protesting police brutality in Baltimore and Ferguson, Mo., according to the hip-hop mogul's ghost writer.
Activist Dream Hampton, who worked with Jay Z on his 2010 autobiography "Decoded," also said the couple wrote a "huge check" to the "Black Lives Matter" movement.
The organizer and filmmaker made those revelations in a series of messages on Twitter last Sunday that subsequently were deleted.
"When we needed money for bail for Baltimore protesters, I asked, hit Jay up, as I had for Ferguson [and he] wired tens of thousands' of dollars within mins," Ms. Hampton tweeted.
"When BLM [Black Lives Matter] needed infrastructure money for the many chapters that we're growing like beautiful dandelions, Carters wrote a huge check. 
"... and more stuff, too much to list, actually, that they always insist folk keep quiet."
Jay Z's real name is Shawn Carter.
Ms. Hampton later wrote that she deleted the tweets because Jay Z "would be pi-issed to see I was offering evidence" that he is taking action. 
The tweets appeared aimed at defending Jay Z and Beyoncé, who have faced accusations from some activists that they have only paid lip service to the movement aimed at stopping police brutality without tapping into the couple's estimated $1billion net worth. 
One prominent critic has been Harry Belafonte, the music giant who supported Dr. Martin Luther King Jr.'s family financially during the Civil Rights Movement and reached into his own pocket to provide bail money for jailed civil rights workers, as well as helped to raise money from others. When Dr. King was jailed in Birmingham, Ala., in 1963 while protesting discrimination, Mr. Belafonte raised $50,000 for his bail.
In a 2012 interview, Mr. Belafonte said that contemporary celebrities "have turned their back on social responsibility," and singled out Jay Z and Beyoncé.
Ms. Hampton said that's just not true.
"I can say I've personally helped facilitate donations they've given to protesters directly and that they never ask for anything in return, especially publicity," she stated. Demonstrations spread last year after a white police officer shot and killed African-American teenager Michael Brown Jr. in Ferguson, Mo. 
More major demonstrations, some turning violent, erupted last month in Baltimore after another African-American, Freddie Gray, died from a severe spinal injury sustained in police custody.
Jay Z paid homage to Mr. Brown and Mr. Gray in a performance in New York City on May 16.
He and Beyoncé met with the Brown and Gray families May 10 at Prince's Rally 4 Peace concert in Baltimore. They left without making public appearances.
Images of the meetings were posted on social media.
In one image, Michael Brown's mother, Lesley McFadden, posed with Beyoncé, Alicia Keys and Beyoncé's mother, Tina Knowles Lawson. 
Jay Z and Beyoncé also have been strong supporters of President Obama. They threw a party during his 2012 re-election campaign that raised an estimated $4 million.
Jay Z also has been in the news recently for spending $56 million to buy the music streaming service Tidal, which he has relaunched with fellow stars.