Personality: Elijah Coles-Brown
Spotlight on youth orator, winner of NAACP Great Expectations Youth Award
11/20/2015, 7:44 p.m.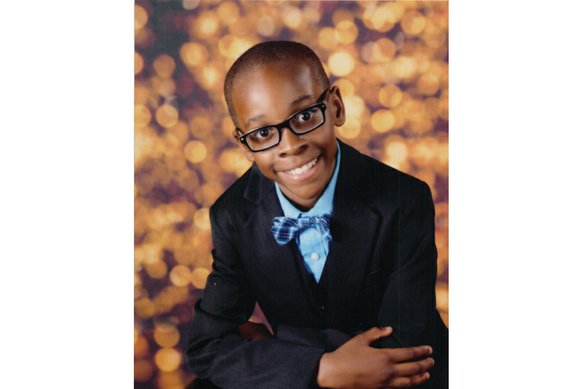 Elijah Coles-Brown is a young man who has something to say and when he opens his mouth, he says it well.
Even at the tender age of 11, the Henrico County resident is gaining a reputation as a dynamic motivational speaker.
The Moody Middle School sixth-grader was awarded the Great Expectations Youth Award earlier this month by the Richmond Branch NAACP at its annual Freedom Fund Awards Gala.
To make the event even more exciting for the young man and his family was his inclusion in the program. He was asked to introduce the event's keynote speaker, the Rev. William J. Barber II.
Dr. Barber and the nearly 300 attendees sat in awe as the small-framed, pre-teen's voice flowed across the podium and filled the room with a confidence and maturity that belied his young years.
Dr. Barber, who is president of the North Carolina NAACP, was so taken by the introduction that he invited Elijah back to the stage for personal recognition and to exchange contact information.
"I will take one of your business cards and you take one of mine. We have to get together," Dr. Barber expressed to the amusement of the audience.
Elijah's speaking typically is met with an enthusiastic response. He has been involved in public speaking since the second grade and suggests that public speaking is in his DNA.
"Growing up, I was influenced by my uncles who are ministers, Rev. Paul Coles, Rev. Reuben Coles, Rev. Michael Felton and, of course my pastor, Rev. Morris Henderson" of Thirty-first Street Baptist Church, he says.
But Elijah doesn't lean totally on genetics. He is dedicated to studying the craft of good speech writing and delivery. "Doing the research to authenticate the content is necessary to make a good speech," he explains.
Once the research is complete, he then moves to the area of the process where he excels most — relaying the facts in an entertaining way.

"A good speaker will make sure that they always know their topic … and allow (their) personality to shine through." But as exceptional as his speaking gift is, public speaking is not his final career destination.
Elijah is enrolled in the International Baccalaureate program and is reading and performing math on a 10th-grade level. It is his mathematical talent that is guiding his future dreams.
Elijah plans to study advanced math and physical science in his pursuit of becoming a mechanical engineer — specializing in roller coaster design.
"I want to design the tallest and largest roller coaster in the world, while maintaining the safety and enjoyment of its passengers," he says.
But even when he has transitioned into the world of math and science, he still wants to incorporate his verbal gifts to inspire.
"I feel that I have a gift to share," he says. "God has given me a special gift to memorize, interpret and convey relevant information to my audiences. I desire to motivate, inspire and be a role model for other young African-American males to help them make their dreams come to fruition."