NAACP 'Journey for Justice' to stop in Richmond
Joey Matthews | 9/8/2015, 5:39 p.m. | Updated on 9/8/2015, 5:42 p.m.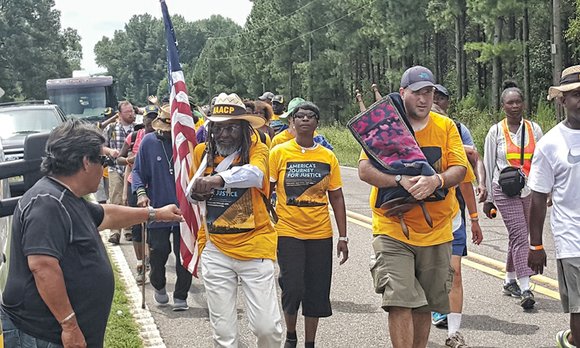 "I'm going to put on my tennis shoes and march."
That was Richmond NAACP President Lynetta Thompson's enthusiastic declaration as "America's Journey for Justice" march nears Richmond.
The national NAACP is coordinating the march, which began Aug. 1 in Selma, Ala., where civil rights marchers were severely beaten by police 50 years ago as they sought voting rights for African-Americans.
The march — themed "Our Lives, Our Votes, Our Jobs, and Our Schools Matter" — is a call to action for renewal of the federal Voting Rights Act of 1965, more sustainable jobs with living wages, criminal justice reforms, education equity and access to health care for all.
Marchers on the 860-mile trek are scheduled to come through Richmond, with rallies and teach-ins while they are here from Thursday, Sept. 10, through Saturday, Sept. 12.
During the three-day stay in Richmond, participants and local supporters will walk about 20 miles per day toward Washington. Each evening, they will return by bus to Richmond to spend the night.
The Journey for Justice will conclude with a rally in the nation's capital Wednesday, Sept. 16, with an education and lobby day at the U.S. Capitol. National NAACP President Cornell W. Brooks is scheduled to address the Washington gathering.
Ms. Thompson expects about 30 members of the Richmond NAACP branch to join the march, along with state NAACP and branch members from Chesterfield, Henrico and Hanover, as well as other supporters.
"Like a mighty giant that has been asleep too long, so much ugly in America has begun the process of awakening to the extent many parts of our communities are coming together in significant ways," Ms. Thompson told the Free Press on Tuesday.
According to the schedule, marchers walking from North Carolina are to arrive in Virginia for stays in South Hill on Tuesday, Sept. 8 and Wednesday, Sept. 9.
Once in Richmond, a rally will kick off local events from 6 to 7:30 p.m. Thursday, Sept. 10, at Virginia Union University, 1500 N. Lombardy St. Theme: "New Generation, Old Battle, The Struggle Continues."
Teach-ins are scheduled 7 p.m. Friday, Sept. 11, and Saturday, Sept. 12, at host Grace Baptist Church, 4200 Dover Road, according to organizers. Topics for discussion are the election process and voter suppression on Friday and environmental justice on Saturday.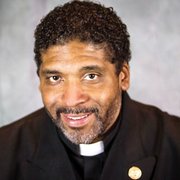 North Carolina NAACP President William J. Barber II is one of the chief architects of Journey for Justice. He has organized the Moral Mondays protests occurring since the spring of 2013 at the North Carolina state capitol in Raleigh to advocate for voting rights and social justice.
Dr. Barber, a pastor and national NAACP board member, told the Free Press the key issue driving the march to Washington is to push Congress to fix the Voting Rights Act that "was gutted in a Supreme Court decision" in June 2013.
"As a result of that decision, we have less voting rights protection than any time since the 1960s," he said.
"State legislatures can roll back voting rights and the onus is on us to prove the laws are discriminatory," he added. "Previously, those legislatures had to prove that voting laws would not be discriminatory before they went into effect."  
Dr. Barber said there are 133 proposals in state legislatures formerly covered by the federal Voting Rights Act that would roll back and "abridge our rights, with the worst of them being in my state."
Congressional Republicans have refused to back efforts to pass an amended voting rights act for the past two years.
Dr. Barber said the march is to lobby Congress to pass the Voting Rights Advancement Act of 2015 introduced by U.S. Sen. Patrick Leahy of Vermont and Rep. Terri Sewell of Alabama. It would restore federal oversight of elections and election laws in 13 states, including Virginia, that have a history of voter suppression.
"That is why we are marching with one band and one sound," Dr. Barber emphasized. "This is the most crucial issue because everything stems from voting rights.
"Voting rights are critical to dealing with police brutality. Our sheriffs are elected and our police chiefs are appointed by elected officials.
"Everything comes back to voting rights, whether you're talking about Medicaid expansion or public education or living wages. All of those things are impacted by access or denial to the right to vote," he said.