Sharpton on GOP: 'They entertain you with foolishness'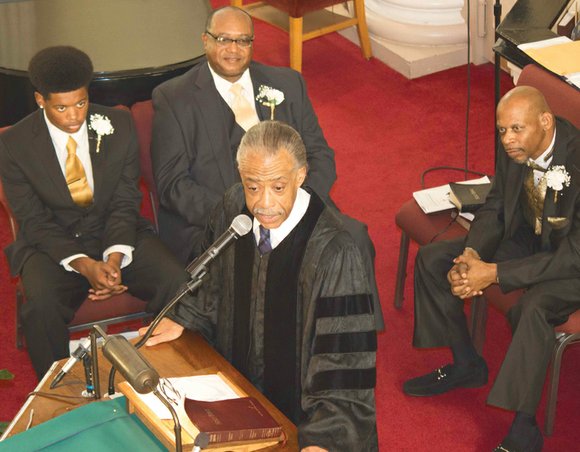 "And let us not be weary in well doing!" the Rev. Al Sharpton said. "For in due season, we shall reap, if we faint not!"
Moved by those stirring words, more than 1,000 worshippers rose to their feet, cheering and applauding Rev. Sharpton on Sunday during his sermon at the Men's Day service at historic Gillfield Baptist Church in Petersburg.
"If you give up, think of those ahead of you. If they had given up, where would we be?"
Rev. Sharpton, a civil rights leader, author and television and radio show host, is president of the National Action Network. His message on determination and self-reliance was drawn from Galatians 6:9.
He said he appeared at the church at the request of his friend, Gillfield pastor Dr. George W.C. Lyons Jr.
Dr. Lyons told the congregation the two have known each other for about 10 years. They had the same mentor in Brooklyn, N.Y., the late Rev. William Augustus Jones, who was pastor of Bethany Baptist Church for more than four decades.
Dr. Lyons introduced Rev. Sharpton as someone that has served "on the front line for justice and equality for a long time."
"He is someone who has been arrested, stabbed, lied on and betrayed, even by some of his friends," Dr. Lyons added.
Rev. Sharpton said he had come to Petersburg from Washington, where he met with President Obama last Friday and attended a Congressional Black Caucus function.
With passion and resolve, he called for people to advocate for voting rights in communities of color, criminal justice reform, education equity and access to health care for all.
He said it's time for people sitting on the sidelines to stop making excuses and join the fight for equality.
"If you think it's hard today, think about how hard it was 218 years ago when they founded this church," Rev. Sharpton said.
"We had no rights anyone was bound to respect. It was controversial for us to even gather. Our women would be violated and there were no police to call. We were chattel properties, trying to come to affirm our humanity.
"And here you are 218 years later," Rev. Sharpton continued, "with a black president, black attorney general. You have a good job, nice house, two cars and you're talking about what you can't get done."
He said he already has grown tired of the televised debates among Republican presidential candidates. He likened them to reality TV shows and little more than "name calling" contests.
He said the obfuscation is by design.
"If we can reduce the political discourse to name calling, then those that want to undermine it, things like health care, can operate in the dark. Those who want to reverse voting rights can operate in the dark. Those who want to have one side of town have resources for education and the other side not have it can operate in the dark," Rev. Sharpton said.
"They entertain you with foolishness, while they undermine the bedrock stuff that was gained.