Fulton streets may change for Bus Rapid Transit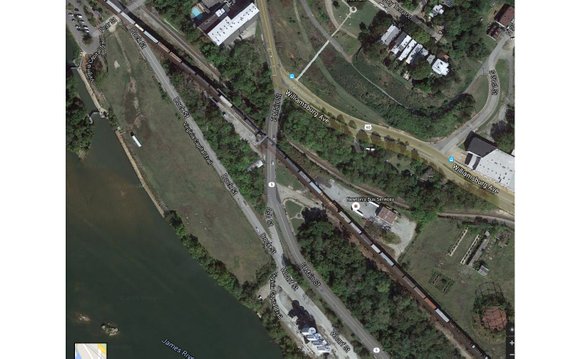 Richmond is moving forward with a proposed $7.9 million overhaul of Dock and East Main streets to improve the road network for the new Stone Brewing plant and the coming Bus Rapid Transit (BRT) system in the East End.
The project appears to expand potential sites for development near the riverfront and the Virginia Capital Trail, the Richmond-to-Williamsburg bike and pedestrian connector.

Last week, the city Department of Public Works unveiled the proposed conceptual design at a public meeting at the Powhatan Community Center in Fulton.
The project calls for relocating Dock Street at Pear Street near Great Shiplock Park. Dock Street would be moved north so it would intersect with East Main Street (state Route 5) and two small streets, Peebles and Ash.

Under the plan, Dock would intersect the three streets about 100 feet south of the location where Williamsburg Avenue splits off from East Main.
A roundabout also would be installed at the new intersection of Dock, East Main, Peebles and Ash.
The project also calls for dramatically widening a stretch of East Main from the roundabout to Gillies Creek to provide room for street parking and bike lanes and for transit buses to pull in and out.
The design also calls for Nicholson Street next to the Stone Brewery plant to get sidewalks and landscaping. A traffic light or roundabout also would be installed at East Main and Nicholson.
The project also would result in the closure of about a half-mile stretch of Water Street between Ash and its intersection with East Main Street and Nicholson streets (Dock Street becomes Water Street eastbound after the roadway hits Ash Street.)
The closure of the street could create 3 to 5 acres of land that the city could market to developers.
The plan was created for Public Works by the design firm Whitman, Requardt & Associates.
If all goes well, according to the city, construction could get underway by March 2017.
The East Main Street improvements are to be completed within five months, and before the BRT is to begin operation in October. The rest of the work is to be completed by December 2017, according to the city's tentative schedule. — JEREMY M. LAZARUS