Brother versus brother
Jenkins' buzzer beater gives Villanova the NCAA championship
4/8/2016, 7:08 a.m.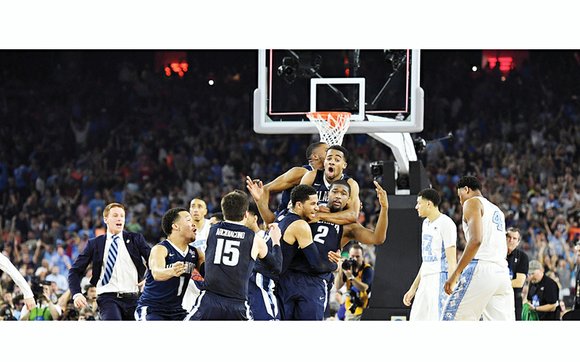 It's hard saying what will be remembered most about Kris Jenkins — his game-winning shot or the background story making it all possible.
Jenkins swished a 22-foot buzzer beater, giving Villanova (aka "Thrillanova") a 77-74 victory for the NCAA championship over favored University of North Carolina, Chapel Hill on Monday night in Houston.
The 6-foot-6 Wildcats' junior joins Michael Jordan, Lorenzo Charles and Keith Smart on the brief list of players who drained game winners in the waning seconds of NCAA finals.
Jenkins' shot, off a pass from Final Four MVP Ryan Arcidiacono, created both ecstasy and agony — surprisingly within the same family.
Playing for the UNC Tar Heels was junior guard Nate Britt II, who just happens to be the person Jenkins calls "my brother."
"As my brother, I'm sad for Nate. But as a competitor, I want to win and I'm glad it went in," Jenkins said in a postgame news conference.
In 2007, after Jenkins' parents, Felicia and Kelvin Jenkins, separated, he was taken in by the family of Melody and Nate Britt Sr. of Maryland.
The Britt and Jenkins families had grown close through AAU basketball connections. After Jenkins went to live with the Britts, the young men played together at Gonzaga High School in Washington. Both were recruited by Villanova University Coach Jay Wright, but Britt opted for UNC after a postgrad season at Oak Hill Academy in Virginia.
On his Villanova bio, Jenkins' legal guardians are listed as Nate and Melody Britt, and his siblings are listed as Nate II and Natayla Britt.
So at this tense and exciting NCAA Tournament final, Jenkins, a forward at Villanova, found himself playing against his brother Nate of UNC.
Jenkins' unforgettable winning shot came just four seconds after UNC's Marcus Paige had knotted the contest at 74-all with a double-clutch 3-pointer.
Arcidiacono, in his record 144th career game for Villanova, said he heard Jenkins' calling for the ball as the final seconds ticked away.
"I heard Kris say, 'Arch, Arch, I'm open,' " Arcidiacono told the media.
On his confident, in-stride game winner, Jenkins said:
"I believe every shot is going in."
In the end, one brother was happy, while the other was blue.
Added Jenkins:
"A lifetime of bragging rights."