Personality: AnnMarie Gilbert
Spotlight on the Big House Gaines Coach of the Year
4/15/2016, 6:56 a.m.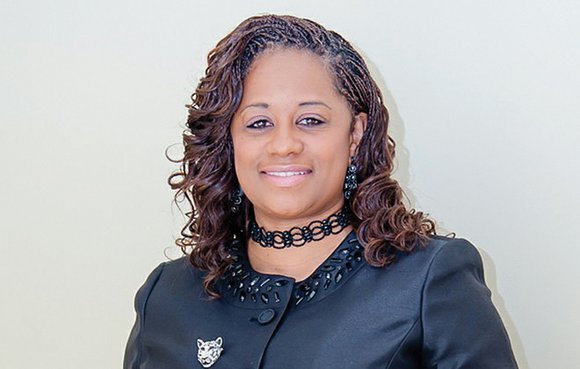 Virginia Union University women's basketball Coach AnnMarie Gilbert continues to add hardware to her already crowded trophy case following a record-breaking season on Lombardy Street.
The first-year Lady Panthers head coach, who guided the team to a historic 28-win season and a berth in the NCAA Division II Tournament's Elite Eight, just received the latest acknowledgment for her coaching excellence. On Monday, Coach Gilbert was named the 2015-16 Big House Gaines College Basketball Coach of the Year by the National Sports Media Association. "We are pleased to recognize Coach Gilbert for the outstanding job she did this season," stated NSMA Executive Director Dave Goren in a news release. "Her team had a historic season and (she) truly deserves this award."
The award is named for coaching legend Clarence "Big House" Gaines, the late Winston-Salem State University men's basketball coach whose team won 878 games, including the 1967 Division II national championship. Coach Gilbert is to receive the award at the NSMA's 57th Awards Banquet on June 20 in Salisbury, N.C. Just weeks earlier, Coach Gilbert was honored as the Advocate for Athletic Equity Division II Coach of the Year.
Known for her basketball acumen and stylish court attire, Coach Gilbert is still flying high after her team's amazing run last month in the NCAA Tournament. The exciting run ended with a nail-biting 53-52 loss to Bentley University on March 22 in Sioux Falls, S.D.
"I think it has been a terrific season," Coach Gilbert proudly said afterward. "Not many teams advance to the Elite Eight." Her team was the first VUU women's basketball squad to earn a trip to the Elite Eight since 1984 when the Lady Panthers lost in the championship game to Central Missouri State.
In 1983, the Lady Panthers won the NCAA crown under late head Coach Lou Hearns by topping Cal Poly Pomona. This year's Lady Panthers were led by Division II Player of the Year Kiana Johnson, CIAA Defensive Player of the Year Lady Walker and a strong supporting cast as they finished with 28 wins and only three losses. En route to the Elite Eight, Virginia Union also added the Atlantic Region and CIAA Tournament crowns to its victory belt. Here's a look at this week's winning Personality, Coach AnnMarie Gilbert:
Date and place of birth: Aug. 2 in Elyria, Ohio.
Current residence: Richmond.
Alma maters: Oberlin College, bachelor's degree; Cleveland State University, master's degree.
Family: Husband Jonathan, a former VUU men's basketball standout; daughter Jada Walker; and son Jaden Walker.
How I received news that I was selected: I received a telephone call from the NSMA.
Why I'm a coach: I had a chance to play basketball at the high school and college levels. I believe my association with the game has opened so many doors for me. This is my way to give back and inspire young people through the game. I can provide scholarships to young women that may change their lives forever.
Number of years coaching: 22 years.
Where did you coach prior to coming to VUU: I was the head coach at Eastern Michigan University from 2007 through 2012, compiling a 94-64 record. Prior to that, I spent three seasons as an assistant coach on the Michigan State University coaching staff. From 1994 through 2002, I was the head coach at Division III Oberlin College.