Answer to church feeding program's prayers was down the street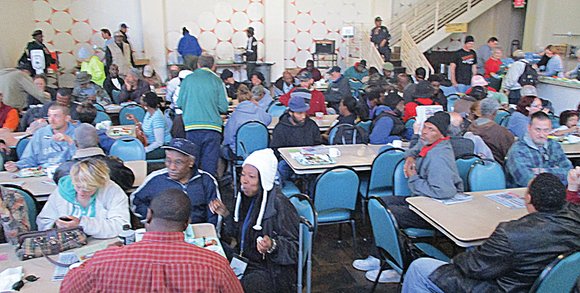 When leaders at Centenary United Methodist Church in Downtown were searching for a temporary site for their Friday feeding program for the homeless and working poor, little did they know the answer to their prayers was only a few yards away.
The church's kitchen, where nutritious lunches had been prepared for three decades, was being renovated. The $700,000 project to replace aging kitchen equipment and install an elevator at the 173-year-old church building at 411 E. Grace St. was about to begin.
In the meantime, said the Dr. Matt Bates, Centenary's senior minister, it was "critical" to find a nearby place where the church could continue to serve the 150 to 200 men, women and children who show up each Friday for fellowship and a warm meal.
"It's just a piece of helping people who are vulnerable and need something to eat every day," Dr. Bates said of the mission to feed the hungry.
While he spoke with a few people who generously said the church could use their facilities while the kitchen project is being completed, none "had everything we needed."
Then Dr. Bates spoke with Alan Shaia, an associate broker with Charter Realty in Mechanicsville who is the property manager for the former site of the once popular Aurora nightclub at 401 E. Grace St. The club, located a stone's throw down the block from Centenary, closed in 2014.
"I told him about our need and, without hesitating, he said we could use the space where Aurora had been," the minister said. There would be no charge.
"We always believe people take care of people," Mr. Shaia said, noting that the owner is looking for a quality tenant for the building. "They're a church that is helping to take care of the community. It's always been a very respectful feeding program. We're blessed that they're right there, helping people in need."
Church members began feeding people at that site in early March. They expect to be at the former Aurora until the church kitchen project is complete this summer.
Last Friday, sounds of laughter and conversation filled the former club as more than 150 people sat down to eat. Centenary's volunteers were joined by volunteers from Bon Air United Methodist Church to serve them.
Richmond Police Sgt. Robert Jones, who was providing security at the program, pitched in as well, stepping behind the counter at times to help volunteers serve food.
"I enjoy working with these nice people," he said.
Dr. Bates said different area churches volunteer each week to help prepare and serve the food, including Asbury, Beulah, Providence and Forest Grove United Methodist churches.
Centenary members give selflessly to make the program possible. Among them: Mary Alice Nesbitt, the coordinator of the program who has been a volunteer for more than 30 years; Doug Wilson, who picks up donated food for the program each week from the Central Virginia Food Bank and local stores and restaurants; and Al Richardson, the church's facilities manager for 29 years.
Mr. Richardson praised Mr. Shaia.
"He has helped to eliminate a vacuum that needed to be filled," he said. "Now, look around," he said as he surveyed the room full of people. "Everybody seems to be happy because they have somewhere they can come to eat a good meal."
Sparkle Veronica Taylor, a resident in the CARITAS shelter program as she seeks to transition into permanent housing, was feeding her son, Alexander "Ax" Xavier Shobe, who is 18 months old.
"The people here very much appreciate that the church and the Aurora owners are allowing us to come here," Ms. Taylor said. "So many people depend on places like this to come and eat a meal. Otherwise, we might not have anywhere else to go."
Centenary United Methodist Church is part of the Downtown Cooperative Church Ministries, a consortium of churches that coordinates777 lunch feeding programs in the city's center. Dr. Bates said other participants and their feeding days are Second Presbyterian on Mondays, St. Peter's Catholic on Tuesdays, Third Street Bethel A.M.E. on Wednesdays and St. Paul's Episcopal on Thursdays.