Va. People's Assembly set for Saturday
4/22/2016, 6:51 a.m.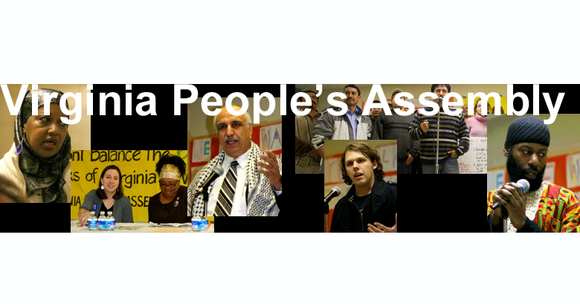 Jobs, criminal justice reform, a living wage, LGBT rights and other issues will be the focus of the 8th Annual Virginia People's Assembly that will convene this weekend at a Richmond church, it has been announced.

The assembly will open its annual 12-hour session 9 a.m. Saturday, April 23, at Wesley Memorial United Methodist Church, 1720 Mechanicsville Turnpike.

More than 30 people are scheduled to speak at panels, workshops and plenary sessions, organizers said.
Among those:
• Ana Edwards, chair of the Sacred Ground Historical Reclamation Project.
• Ray McGovern, a former CIA analyst who now is an anti-war activist.
• Adria Scharf, director of the Richmond Peace Education Center.
• Carolina Velez, program coordinator and community organizers for the Wayside Center for Popular Education.
Topics will include: The growing movement against police killings, standing in solidarity with ethnic and religious communities under attack, ways to improve education, women's reproductive rights, immigration, prisons and environmental justice.
There also will be votes on policy resolutions to carry to the state legislature and Congress.
Open to the public, the people's assembly will run until 9 p.m. Lunch and dinner will be provided, organizers said.
The assembly is described as an opportunity for those working for justice to network, strategize and collaborate.
Participants have included union members, prisoner advocates, women's rights activists, immigrants and their supporters, gay community activists, students, anti-war organizers, veterans and others.
The VPA requests a donation of $10 per person, but does not require payment to attend.

Additional information: www.VaPeoplesAssembly.org or (804) 644-5834.