As only incumbent, Bourne to play integral role on new School Board
12/2/2016, 7:16 a.m.
By Lauren Northington
When Richmond residents cast ballots on Nov. 8 for representatives to the Richmond School Board, looming were the major issues faced by the public school system — declining school accreditation, a multimillion-dollar budget deficit and high teacher turnover.

The election results came in, and Jeff Bourne, the School Board's current chairman who represents the city's 3rd District, was the only incumbent to win.
As the new School Board takes office in January, Mr. Bourne will be the only returning member on the nine-person panel. That makes Mr. Bourne, a deputy Virginia attorney general, integral both in orienting the new School Board members and in facilitating a culture of change that voters are expecting.

"One of the most encouraging things for me is that schools have been so front and center in the community's mind," Mr. Bourne told the Free Press at a Nov. 21 School Board meeting.
"For all of the important issues that we're going to face, I feel like the new folks (on the School Board) have a good foundation," said Mr. Bourne.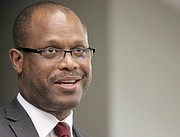 The eight new members include a retired school librarian, a consultant who previously worked for Richmond Public Schools, an administrator at Virginia State University's business school, an attorney, a podiatrist, a venture capital firm director, a program coordinator for the Richmond jail and a technology firm's contract manager.
They began their orientation on Monday in an all-day training session Superintendent Dana T. Bedden, Mr. Bourne and school administrators, as well as representatives from the Virginia School Boards Association.
"Although this is my first time in Richmond bringing in a board, the way the policy is written, I am responsible for providing an orientation for new board members," Dr. Bedden told the Free Press last week.
Current Richmond School Board bylaws state "each new member shall participate in an orientation program under the direction of division superintendent."
Dr. Bedden, who became Richmond's superintendent in January 2014, began his tenure more than halfway into the four-year term of the outgoing board.
At several candidate forums this fall, incoming board members were critical of Dr. Bedden's leadership and ran on platforms of radically changing the city's schools.
Felicia D. Cosby, 44, who beat out incumbent Shonda M. Harris-Muhammed in the 6th District; Dawn C. Page, 52, who ran against two opponents in the 8th District for the seat currently held by Dr. Derik Jones; and Linda B. Owen, 70, who ran unopposed in the 9th District, are familiar with the school system.
Dr. Bedden ousted Ms. Cosby, former RPS spokesperson, in 2014. Ms. Owen is a retired school librarian. Ms. Page previously served on the School Board for the 8th District for two years, serving as vice chair.
Other incoming school board members include Liz B. Doerr, 31, 1st District; J. Scott Barlow, 28, 2nd District; Jonathan M. Young, 39, 4th District; Patrick M. Sapini, 46, 5th District; and Nadine D. Marsh-Carter, 52, 7th District. They do not have any formal experience with the school system.
Nonetheless, Dr. Bedden said he views Richmond schools as undergoing a period of transition and hopes the new board will share his patience.

"My expectation is that we work toward the same goal but every child is not going to get there at the same time," he told the Free Press. "But the community should expect progress."
Mr. Bourne, too, has faith that focusing on the students will continue to be the board's No. 1 priority.
He even had a word of advice for his incoming colleagues.
"My request of all School Board members and the superintendent is 'Look, let's come and build with a clean slate. Let everyone build their own relationships that are built on respect and mutual concern for the success of our students.' "