Personality: Linda S. Jordan
Spotlight on founder of Coalition Against Violence
12/2/2016, 7:28 a.m.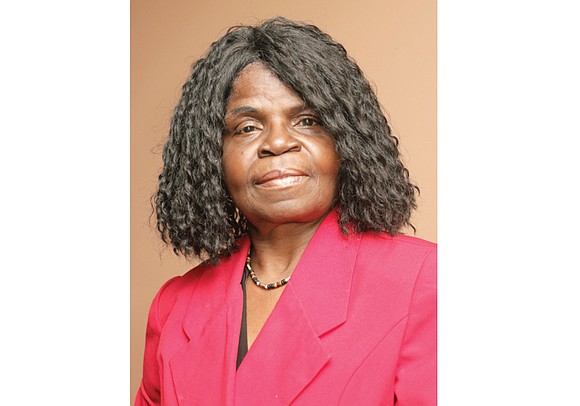 Linda S. Jordan knows that pain comes in all forms. A domestic violence survivor and 16-year breast cancer survivor, Ms. Jordan admits that there is no pain like that she experienced 26 years ago when she buried her teenage son, William Jordan III.
William was murdered in Richmond in 1990 at age 19.
"I felt a huge sense of pain and loss," she says, "but I used my pain to make a difference. I know how it feels to lose a loved one, so I used my pain to turn a negative into a positive to help others."
Months after her son's death, Ms. Jordan channeled her feelings of loss into planning a holiday memorial to homicide victims and their family members. The memorial was meant to comfort families celebrating the holidays for the first time without their loved ones.
"I just wanted to get through the first Christmas," Ms. Jordan recalls about the initial event. "But then it just grew." As founder of the Coalition Against Violence, Ms. Jordan is hosting the 26th Annual Holiday Memorial for Survivors of Homicide at 7 p.m. Friday, Dec. 9, at Richmond's City Hall.
The memorial event is free and open to the public. Survivors are encouraged to bring pictures of their loved ones to display during a roll call of memorialized family members. Ms. Jordan also suggests "bringing candles for your personal use at the memorial if you prefer."
When the memorial event was started in 1990, more than 100 people were victims of homicide. "Today, it's in the 50s," Ms. Jordan says. "And while that's good, one life makes a difference."
She said she plans and organizes the memorial service each year to honor each of those lives lost to violent crime in the city. She thought about ending the memorial if it was no longer needed, but "it continued because the murders continued," she says.
In 1994, the event moved from the front steps of the John Marshall Courts Building in Downtown to City Hall. In 1996, the Coalition Against Violence sponsored the "River of Tears" sculpture by artist Donald Earley, which stands permanently in City Hall.
Dedicating the sculpture was a milestone for the coalition. The statue "reminds me of the loss homicide brings," she says. She and a handful of dedicated coalition volunteers, including 25-year members Debbie Owens and Gilbert Wilkerson, and the late Barbara Egwim, a 15-year member who died in August, work closely with the Richmond Commonwealth's Attorney's Office Victim-Witness Services program to put on the yearly event.
But it's the memory of that first holiday that keeps her going.
"After every memorial, family members, friends will come up and tell me how much it means to them. There are many survivors who are at the memorial each year for the first time who express to me the pain experiencing their first holiday without a loved one," she says.
"When you take a life," Ms. Jordan explains pensively, "you don't just kill one person, you kill a whole family. You kill that person's family members and friends. I feel like people need to be reminded of that."