Roland Martin to VSU grads: 'Game time is on'
12/16/2016, 8:57 p.m.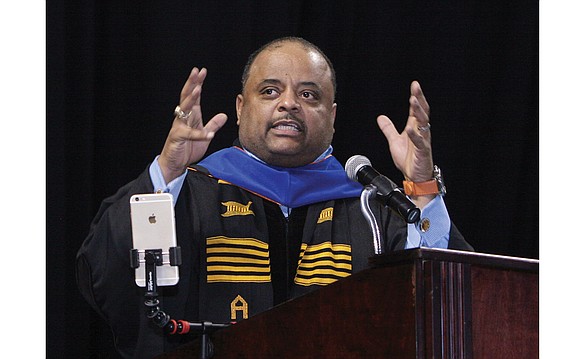 By Saraya Wintersmith
Roland S. Martin, host and managing editor of TV One's "News One Now," delivered part-speech, part-sermon Saturday to the 400 fall graduates of Virginia State University.
Everything you have done so far is merely preparation for the game of life, he told the graduates. Where you go, he said, will be shaped what you do after the diplomas are distributed.
"Now the decisions you make will have eternal consequences," Mr. Martin said. "Decisions you make as a graduate will also determine what life will be like for your children's children," he said, recalling how his hardships and successes impacted his own family.
Often, he said, "we look at our lives in terms of just 'It's about us,' when it's not just about us because you never understand what curveballs life will throw you," he said. "You lay everything out perfectly, but all of a sudden, things change. Things begin to shift. And so you come up against adversity ... How you react will determine what your future is."
The award-winning journalist, who also hosts a syndicated daily radio show, "The Roland Martin Show," urged graduates to move through life's uncertainties by working hard and seeking divine guidance.
"You are going to face doubt. You are going to face trouble. You are going to face agony. But if you have faith in God and faith in yourself, you will come back one day to Virginia State and they're going to recognize you as one of the greatest graduates of the university.
"Now, it's time for you to get to work," he said. "Game time is on."
Senior Kayla M. Pinson, a history major from Charlotte, N.C., was recognized as the graduate with the highest GPA — 4.0.
Before his speech, Mr. Martin asked for a volunteer from the graduating class to come forward and enliven the ceremony through song.
"I was hoping your band was here so we could crank it up," he said. "Let's just be clear: I appreciate all commencement songs, but I came to an HBCU."
Students and faculty cheered, recommending John Morris go to the stage.
"I need a really black song," Mr. Martin told the young man. "I need Jesus to literally walk through that door."
Mr. Morris then gave a rousing a cappella rendition of "When I See Jesus Amen."
The audience erupted into applause. 
VSU President Makola M. Abdullah was pleased at the conclusion of the event.


"It is wonderful to see such an awesome group of young people cross the stage to fulfill the dream that they have and fulfill the dreams of their families," he told the Free Press. "I'm proud that Virginia State University could be a part of their dreams."
Saturday marked the first time VSU's commencement exercises were held at the new $84 million Multi-Purpose Center on campus. The venue, which opened earlier this year, was filled to half-capacity with roughly 2,831 guests on Saturday.
Dr. Abdullah extolled the event's smooth operation.
"A lot of great people worked together to make this happen. It's just a wonderful facility."
He said holding commencement exercises on campus gives students, their families and friends an added experience.
"It's a great opportunity for students to say, 'Hey, I used to live in that building and I took classes in that building,' and to show some of the young people what a college campus looks like."