City finishes with money loss on UCI bike race
Jeremy M. Lazarus | 1/1/2016, 10:40 a.m. | Updated on 1/1/2016, 10:40 a.m.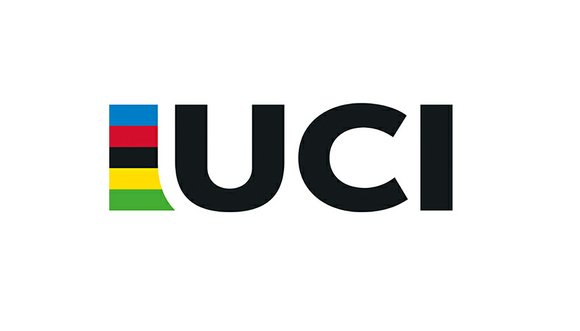 Remember the world bike races that dominated Richmond for nine days in September?
To Mayor Dwight C. Jones and other officials, the races were an unparalleled success, creating an economic boost for the region and putting the area in the world cycling spotlight.
Data released earlier this month by Richmond 2015, the regional nonprofit that put on the races, show the cycling competition drew 645,000 spectators — far above the projected 450,000 watchers — and those spectators spent $75 million on food, lodging, transportation, recreation and other items from the UCI Road World Championships' start on Sept. 19 through the Sept. 27 finish.

However, such spending did little to fill the city's treasury, according to a Free Press review of city tax earnings during September.
State and city data show the Richmond City government, at best, collected 2 cents of revenue for every $1 of taxpayer money spent to host the competition.
In other words, the city fell far short of covering its costs, undercutting the mayor's claim that the races "generated millions of dollars of benefit to the City of Richmond and the region as a whole."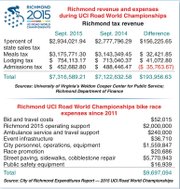 According to its own report, City Hall poured $9.7 million in tax dollars into the races since 2011 when it began bidding.
The spending covered everything from street paving to police overtime, litter cleanup and ambulance services. The costs also included the $2 million the city contributed to the Richmond 2015 organizing group.
However, Richmond gained just $193,957 in total new revenue from its share of the state sales tax and from add-on sales taxes on meals, hotel rooms and admissions to concerts and other events.
Richmond's result contrasts sharply with the outcome for the state of Virginia, which apparently earned $900,000 more than it spent.
Data show the state spent about $4 million, with $2 million donated to Richmond 2015 and another $2 million spent to market the races as an attraction for visitors.
On the revenue side, the state is estimated to have earned $4.9 million in tax revenue, according to a report on the economic impact of the races on the Richmond region and the state that Richmond-based Chmura Economics & Analytics prepared.
That works out to $1.22 for each $1 the state invested.