Denzel receives top Golden Globe award
Reuters | 1/15/2016, 8:07 a.m.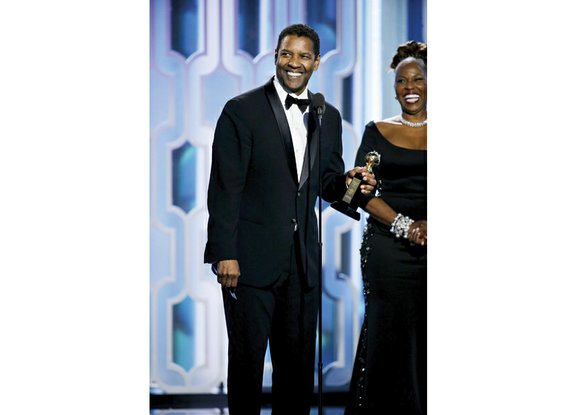 Beverly Hills, Calif.
Oscar-winning actor Denzel Washington joined the ranks of Steven Spielberg, Martin Scorsese and Robert De Niro when he was awarded the Golden Globe for lifetime achievement Sunday.
The 61-year-old actor is only the third African-American to be recognized in the more than 60-year history of the award.
Mr. Washington was presented with the Cecil B. DeMille Award at the Golden Globes ceremony in recognition of his work in front of and behind the camera. He accepted the award flanked by his wife, Pauletta, and three of his children, but said he couldn't read his prepared speech because he had forgotten his glasses.
"Yeah, I did need my glasses," he said, chuckling as he fumbled with his speech in his hands.
In his short speech, Mr. Washington thanked the Hollywood Foreign Press Association, the organization that awards the Golden Globes, "for supporting me over the years. They always made me feel like a friend or part of the party."
Mr. Washington's movie roles have ranged from activist Malcolm X, to a drunk but heroic pilot in "Flight" and a rogue detective in "Training Day," for which he won his second Oscar in 2002.
He also directed and starred in the 2007 film "The Great Debaters" about a professor who coached a debate team from a black U.S. college to national glory, and produced and starred in the drama "Antwone Fisher."
Previous African-American winners of the Cecil B. DeMille Award are Sidney Poitier and Morgan Freeman. Last year's recipient was George Clooney.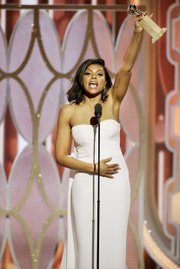 Another big winner Sunday was Taraji P. Henson, who plays family matriarch Cookie Lyon on Fox television's popular hip-hop industry saga "Empire." Ms. Henson won a Golden Globe Award for best actress in a TV series or drama.
She beat out several other actresses, including Viola Davis, who was nominated for "How to Get Away With Murder" on ABC television.
"Who knew that playing an ex-convict would take me all around the globe?" Ms. Henson said of her character, who spent 17 years in jail for drug dealing.
Revenge drama "The Revenant" and space adventure "The Martian" took the top film awards. "The Revenant," starring Leonardo DiCaprio, won best drama film, while Mr. DiCaprio won best drama actor and its director, Alejandro Inarritu, was named best director.
Mr. DiCaprio beat Will Smith, who was nominated for best actor for his role in "Concussion."
Matt Damon, star of "The Martian," won best comedy actor for the film about an astronaut stranded on Mars, and the film won the best comedy/musical movie category.
Idris Elba was nominated for best supporting actor in a film for "Beasts of No Nation," and best actor in a TV movie or mini-series for his role in "Luther." Uzo Aduba was nominated for best supporting actress in a series or TV motion picture for her role in "Orange Is the New Black" on Netflix.