Decision removes guns from domestic abusers convicted of misdemeanors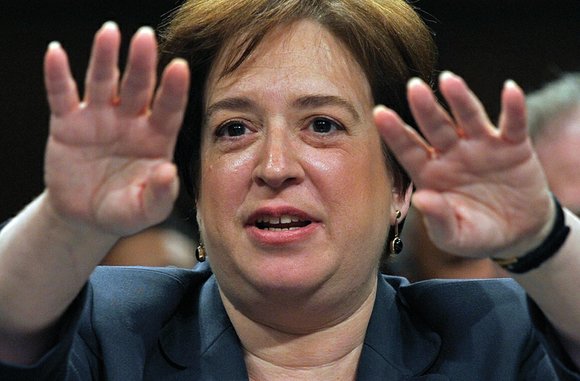 WASHINGTON
The U.S. Supreme Court expanded protection for victims of domestic violence Monday by ruling that every misdemeanor conviction for domestic violence triggers the loss of gun ownership rights.
The justices, in a 6-2 ruling issued amid fierce debate about reducing firearms violence in America, rejected arguments that a federal gun ownership prohibition should apply only to knowing or intentional conduct, but not to impulsive or reckless conduct.
In dispute was a federal law passed two decades ago barring people convicted of a "misdemeanor crime of domestic violence" from owning a firearm.
Writing for the court, Justice Elena Kagan said the law was enacted "to close a dangerous loophole" because many perpetrators of domestic violence are charged with misdemeanors rather than felonies.
Justice Kagan stated that Congress passed the law to target domestic abusers convicted under run-of-the-mill misdemeanor assault and battery laws, and that "reckless assaults" are covered as well.
The issues of gun rights and gun control have been high in the national debate since 49 people were killed by a gunman June 12 at an Orlando, Fla., gay nightclub in the deadliest mass shooting in modern U.S. history.
Following the massacre, gun control legislation was defeated in the U.S. Senate. In the House of Representatives, Democrats staged a historic sit-in on the floor last week demanding action after House Speaker Paul Ryan refused to allow a vote on similar gun control legislation. The sit-in was called off after the House adjourned for the Fourth of July holiday. But some Democrats are threatening to resume the sit-in when the House returns to work next week.

The debate has been equally hot in Virginia, where the Republican-dominated legislature has been easing restrictions on gun ownership. State law currently does not bar people convicted of misdemeanor domestic abuse from owning guns.
However, on Friday, July 1, a new law that Gov. Terry McAuliffe brokered with the General Assembly goes into effect that will require individuals hit with a protective order by a victim of domestic abuse to give up their guns. Those who do not comply could be charged with a felony.
This week's U.S. Supreme Court decision stemmed from a Maine case involving two men who, separately, pleaded guilty to domestic assault and then years later were charged with illegally possessing firearms. Both men had argued that they should not be subject to the gun prohibition because their prior convictions were based on impulsive conduct.
In his dissent, Justice Clarence Thomas criticized the majority ruling for trampling on gun rights enshrined in the U.S. Constitution's Second Amendment.
"This decision leaves the right to keep and bear arms up to the discretion of federal, state and local prosecutors," Justice Thomas wrote, noting there is "no other fundamental constitutional right that a person could lose forever by a single conviction for an infraction punishable only by a fine."