Students learn leadership through Maggie L. Walker summer institute
7/15/2016, 10:12 a.m.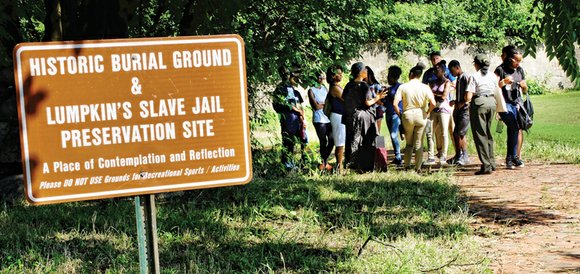 By Bonnie N. Davis
Eight area high school students participating in the Maggie L. Walker Summer Youth Leadership Institute spent a recent morning learning about Richmond's slave-trading past in Shockoe Bottom.
While some students peered longingly at nearby leafy trees as they stood outside in the 90-degree sun, their tour guide, Ana Edwards, appeared oblivious to the heat as she discussed Virginia's role in the slave trade that included Manchester Docks, a major port that made Richmond one of the largest sources of enslaved Africans on the East Coast from 1830 to 1860.
The students also visited the historic African Burial Ground and Lumpkin's Jail preservation site. Lumpkin's was one of dozens of such enterprises where enslaved Africans were held, auctioned off and driven in chains into deeper parts of the South, according to Dr. James Brewer Stewart, professor emeritus at Macalester College who has written extensively about slavery.
"It's easy to see this history as one of shame and embarrassment," Ms. Edwards said after the tour ended.
Ms. Edwards leads efforts to preserve Shockoe history through the activist group Defenders for Freedom, Justice and Equity.
"There were a lot of losses and damage. My hope is that students will see that through resistance and achievement from the earliest days of their arrival, blacks were fighting back."
The Shockoe Bottom tour, a trip to the Black History Museum & Cultural Center of Virginia in Jackson Ward, and a visit to the home of Frederick Douglass and the Mary McLeod Bethune Council House in Washington are just some of the activities that this year's Maggie L. Walker Leadership Institute students have participated in. This is the seventh year of the program that runs from July 5 through 14.
The free institute, sponsored by the National Park Service, officially culminates Saturday, July 16, with a closing ceremony commemorating the 152nd birthday of Maggie L. Walker, the iconic African-American who was the nation's first woman to charter a bank and serve as its president.
Born during the last year of the Civil War , Mrs. Walker lived in Richmond her entire life as a fully engaged citizen who challenged racial discrimination and gender bias through her work with the Independent Order of St. Luke and other local and national organizations. Her earliest leadership role in the order was as matron of the juvenile department, helping young people learn self-discipline, self-help and selflessness, and grooming young leaders who knew the importance of helping others and their communities.
The celebration in Mrs. Walker's honor will take place 11 a.m. to 3 p.m. at the Maggie L. Walker National Historic Site, 600 N. 2nd St.
"Our hope for the future belongs to our youths," is a quote the institute's organizers use in support of the two-week summer program that this year has drawn students from the Maggie L. Walker Governor's School, Hermitage and J.R. Tucker high schools, Collegiate and others.
"This is a particularly exciting year for the Leadership Institute as the National Park Service enters its second century of stewardship," said Ajena Rogers, supervisor at the Maggie L. Walker National Historic Site and institute coordinator. "It is our hope that these young people will come away inspired by the work of Mrs. Walker and looking toward a future in which they carry forth her legacy."
Students who are selected for the institute meet daily at the Jackson Ward historic site to develop leadership skills and participate in community service projects.
"I feel like what I learn here I can take to back to school," said Adrena Johnson, 15, of J.R. Tucker. "Maggie L. Walker grew up in a harsh time period and could have gone down a dark road, but she didn't."