Malia, Sasha turn heads at first state dinner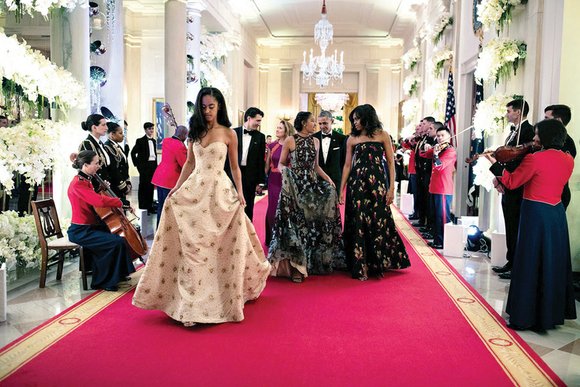 Sasha and Malia Obama, the teenage daughters of President Obama and First Lady Michelle Obama, were nothing less than stunning for their first state dinner, where they were first clad in designer fabrics and later in controversy.
During the official White House event last Thursday night welcoming Canadian Prime Minister Justin Trudeau, both Sasha and Malia ruled the red carpet, rubbed elbows with dignitaries and enjoyed a rare star-struck moment with "Deadpool" star Ryan Reynolds.
Unfortunately, heated discussions centering on the girls attire have arisen, marring the First Family's historic evening. The issue arose when Kristen Sze, an ABC network news anchor in San Francisco, commented about the price of the girls' gowns.
Ms. Sze called the gowns, which ranged in price from $17,000 to $20,000, "too expensive for such young girls." She further fueled the discussion by asking her Twitter followers if they would pay that price for dresses for their teenagers.
Black Twitter took to the Twittersphere in defense of the girls, hitting back with comments like, "Better question: Is your mom The First Lady? No? Your opinion is irrelevant."
The First Family has been characteristically unfazed by the subsequent gown discussion. Joanna Rosholm, press secretary to the First Lady, released this statement in the past about Mrs. Obama's wardrobe:
"And for the record, the government isn't paying for any of the first family's wardrobe. Mrs. Obama pays for her clothing. For official events of public or historic significance, such as a state visit, the first lady's clothes may be given as a gift by a designer and accepted on behalf of the U.S. government. They are then stored by the National Archives."
Regardless of the social media flap, the elegance of the First Family could not be denied. The always fashionable First lady wore a custom strapless gown by one of her favorite designers, Jason Wu. Her daughters wore dresses by designer Naeem Khan.
Malia, 17, who was seated between Saturday Night Live creator Lorne Michaels and actress Sandra Oh, wore a strapless faille gown with crystal beading from the designer's pre-fall 2015 collection.

Sasha, 14, wore a dress from the Indian-American designer's 2016 resort collection. The red, black and sheer gown was embroidered with all-over threadwork, beading and appliqué, accentuated by a fitted bodice and ball skirt. She also tied a thin ribbon around her neck as a choker. She appeared right at home seated next to actress and model Blake Lively.
It was clear that the coming-of-age moment was not lost on President Obama, who couldn't resist gushing about his daughters.
"When I was first elected to this office, Malia was just 10 and Sasha was 7. And they grow up too fast. Now, Malia is going off to college … and I'm starting to choke up," the president said during his opening remarks at the dinner.
Prime Minister Trudeau also recognized the girls' confidence and grace, and took the opportunity to pay tribute to them.
The Canadian leader recalled how he grew up in the spotlight when his dad was prime minister and how he missed state dinners because he was too young. He went on to express his admiration for the sisters' strength and said that they enjoy a "remarkable childhood and young adulthood that will provide extraordinary strength and wisdom beyond your years for the rest of your life."